Mystrons are a very useful currency in the game. There are 5 types of Mystrons in the game and each Mystron can be acquired from different places.
If you're lucky, you can get Green Mystrons from:
Calendar
Fishing
Gallery
Cleaning decorations
Daily Quest Chests
Video Balloon (except kindle)
Yellow Mystrons can be obtained from:
Planning Circus Monkey Boost ahead
Achievement House
Daily Quest Chests
Some Discount Decorations
Blue Mystrons can be obtained from:
Order Board
Coffee House Quests
Some Discount Decorations
Purple Mystrons can be obtained from:
Red Mystrons can be obtained from:
Mystrons can be used in the Mystery Store to buy special items, as can be seen in the picture below. The Mystery Store can be accessed from the Store in your game. It's located at the top left corner of the Store window. At the top of the screen on the right side, you can see how many Mystrons you currently have.
The special items change every 24 hours and you can see a timer which indicates when the special items will change. The RC is the only item that will always be available in the Green Mystrons tab, but note that the price for the RC changes every day.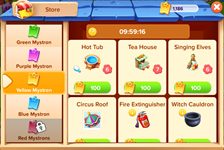 Mystron Video Balloon
Once in a while you will see the Mystron Video Balloon floating over your farm. After you tap on it, you will be able to watch a video advertisement and get Green Mystrons as a reward. Note: You have to watch the video until the end to get the reward.