Automation is used to automatically fill machines and feed animals and it will also take out the end products. Automation only works when the app is open and it will consume OP. If you have no products in your barn to use or you have run out of OP, the automation will stop for your machines and animals.
How can I turn Automation on or off?
You can turn it on or off for individual items. Press the yellow arrow icon and then the yellow cogs.

When you have tapped the yellow cogs, on/off switches will appear above items for which Automation can be used. You can tap to change the position to on or off.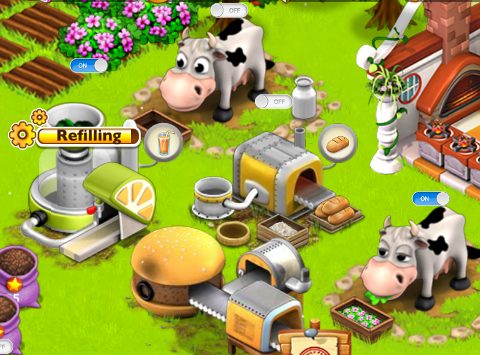 How much OP is used for Automation?
Automation always costs 1 OP per ingredient added and 1 OP per product taken out. As a result, some machines will cost more OP as they require more ingredients.
How much OP do I have and how can I get more?
The amount of OP you have is displayed at the top of your screen.

You can get more OP by buying them in the Store. Tap on the Store icon, select Farm Aids on the left hand side and then select the Automation tab.