Are you ready to invite a new companion in to your heart? Get started by placing the Pet House on your farm. It should be placed right next to a path. The Pet House can be purchased from the Seaside Store, under the 'Buildings' tab (you must be level 10 or above).
Different types of Pet
There are a number of different Pets in the game, including Labrador, Cat, Turtle, Bear, Poodle and many more. Each pet will be either a male or a female. All pets will live in the Pet House.
Pet House
Once you have your Pet House, you will get your first Pet for free.
You can have a total of 15 pets but only 4 will be able to come out of the Pet House. In the Pet House slot, the 1st one is already open for you and the rest need to be upgraded. As for Pet spaces, the first 4 spaces are already unlocked.
You can also decorate the Pet House by tapping the colorful brush on main panel of pet house.
* The Ears section will be unlocked when your Pet House reaches level 2, and the Hair section will be unlocked when your Pet House reaches level 3.
Chest and Stamina
There are 5 types of chests in the game: the normal chest, silver chest, golden chest, diamond chest and special chest. Each chest will require a different time for the pet to dig up and also a different stamina amount.
Your pet will regain 15 Stamina per hour, or you can simply feed them with the Normal Pet Food

(5 Stamina per serving) and Super Pet Food

(50 Stamina and 10 XP per serving).
Note: You can also use OP to instantly finish digging a chest.
Pet Apparel
You can customize your pet as you wish by tapping on the Apparel button on the Pet panel. Each pet has different kinds of apparel they can wear. For these apparel items, you can choose to purchase each for 7 days, 30 days or permanently.
Pet School
The Pet School is the place where you can get a new pet. Go to your Pet House, and tap on the middle tab at the top of your screen to find it.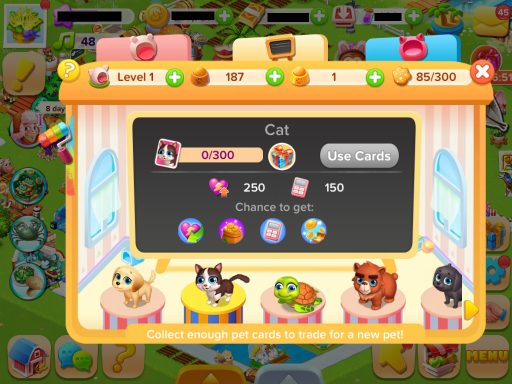 The new pet will be summoned using Pet Cards

that you can collect by finishing guest orders from the Guest Center. Once you have the required amount of Pet Cards, open the Pet School panel and tap on the 'Use Cards' button to get your new pet.
Skills
After using your Pet Cards, your brand new pet might already know some random skills. Later, your pet can also learn new skills. Please note that one of its current skills will be replaced at random if you do not have any empty skill slots.
How to switch Pet?
To switch Pet, tap on the blue arrow icon located on the right side of your Pet as shown in the picture below: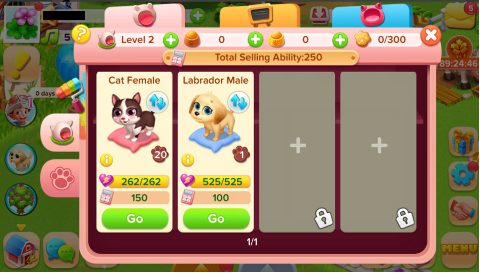 Releasing Pets
You can release your pets. To do this, tap and hold on the pet till you see a red '-' icon.

A new panel will appear to confirm if you want to release the pet. Type 'OK' if you want to release the pet. Tap on the red 'X' if you want to cancel it. Please note that once you release a pet, you won't be able to undo it.
Borrowing Pets
You and your Buddy can borrow and lend each others' pets once you have reached Buddy grade 1. The borrowed Pet will be able to dig chests and also bargain with your Guests. The borrowed Pet will arrive on the Farm with full stamina and will only leave once the Stamina reaches 0 or when the time reaches 00:00 (UTC+0). While the borrowed Pet is on your farm, you won't be able to feed it any Pet Food.
Note: When a Buddy borrows your Pet, you will still be able to use your Pet on your own farm.