Technology is one of our primary productive forces. In Z Day, Technology provides unquestionable power to players. There are 2 kinds of Technology: Research Lab Technology and Alliance Technology. By researching them, you gain more and more benefits, and greater power.
Research Lab Technology
You can begin researching once your Research Lab is built. The level of your Research Lab affects what technology you can research, and the maximum level of a technology you can research. You'll need to spend some time and resources in researching. Speedup items can help cutdown on the time required.
Main Ways to Obtain Speedup Items:
– Headquarters Event
– Gold Event
– Technology Challenges
– Challenge Store
– Speedup Packs
Alliance Technology
Alliance Technology can provide benefits to all alliance members. Alliance Technology requires alliance members' donations. When the donations reaches 100%, alliance leader or R4 members are able to research the technology. When the research finishes, the benefit affects.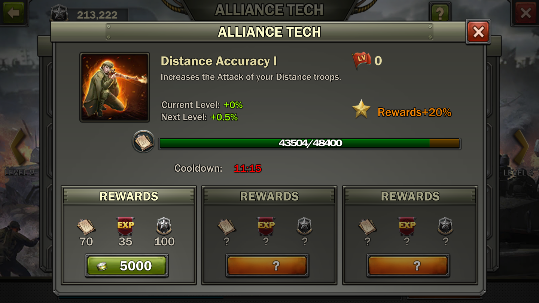 During donation, there is the possibility to trigger a chance of multiple donation. Multiple donation requires either resource or gold.