When you first begin playing My Free Farm 2, your farm will only be a small rectangle. Over the course of the game you can expand it towards the forested areas though. To unlock an expansion, simply click on the glowy green arrows at the edge of the farm. Each arrow will unlock a small square area of land for you.

Each expansion has a cost, comprised of Coins/Diamonds and tools. Some expansions can only be purchased with Diamonds. If you're missing tools, you can always use Diamonds to expand anyway.
Removing Obstacles
Once you've successfully expanded your territory, you might find small obstacles (for example a tree with a nest). You can leave them there if you want, but if they get in the way, you can also remove them.
To remove an obstacle, you'll need tools and coins: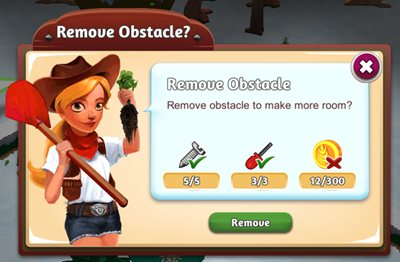 If you don't have the required tools, you can use Diamonds to remove the obstacle anyway, or simply close the window and keep collecting tools until you're ready.