What are decorations good for?
Not only are decorations a great way to make your farm prettier and give it a more personal touch, they are also very useful, because they give you tools. Tools are required for a lot of things around the farm – expansions, repairs, debris removal and even some productions!
Where can I get decorations?
The easiest way to get decorations is in the shop – the fourth tab has everything for your decorating needs:

You can also get decorations as bonuses when making Diamond purchases (keep an eye out for in-game notifications or check the Diamond Shop) or from events.
How can I tell what a decoration will give me?
Clicking on an item in the shop will show you everything you need to know about a decoration: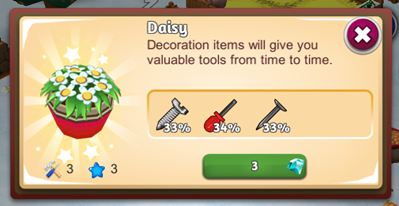 You can see which tools the decoration can give (and at what likelihoods) and how many tools (tool icon in the bottom left corner) and experience points (blue star) you'll get per collection. You can also click on decorations already on your farm to see this information, in addition to a timer which tells you when you can next collect tools.
Why have my decorations stopped giving tools?
Every time you click on a decoration pin, it will take longer for the next pin to appear. If the rate slows down too much for you, you can simply sell the decoration (see below) and replace it with a new one.
Some items (such as the reward items from events or bonus items from payments) also have a limited number of charges. Once these run out, you'll have the option to recharge the decoration for Coins, so that you can keep collecting tools from it.
How can I move/remove/sell decorations?
To move, remove or sell objects, you'll need to enable movement mode in the main menu bar:

Simply click on an item to select it. You can click and drag it around to move it around.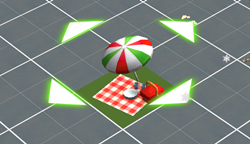 The button with the swirled arrow at the bottom will let you rotate it. You can confirm the new placement by clicking on the green checkmark button.

To sell the item, just click on the red bulldozer button, and confirm the window with the red "Tear Down" button.
Note: Not all decorations and buildings can be sold!