How can I get a four-leaf clover? Why do I need one?
You need four-leaf clovers to play at the House of Luck. You can win Township Cash, coins, construction materials, tools, and other useful things there.
Please note: you can only get Drills, Electric Saws, and Jackhammers at the Tool Exchange when you trade in construction materials.
Stocking up on four-leaf clovers is simple:
1. Help your friends and other players load their trains or fill crates in their airplane cargo holds when asked. They send you a thank you letter with a four-leaf clover inside once they accept your help. The letters get delivered to the mailbox at the Town Hall, and you'll know they've arrived when you see an enveloped-shaped icon above the Town Hall.
2. Enter the game regularly to receive daily bonuses. When you log in more than five days in a row, you have a chance at winning a four-leaf clover every day after that.
3. Exchange gifts with friends. Some gifts contain four-leaf clovers.
4. You can always buy four-leaf clovers with Township Cash.
How do I get orders from the film director?
Orders from the film director show up randomly at the helicopter pad window for a random group of players. They appear and disappear in your town every once in a while.
Special event rewards
Participating in events gives you an opportunity to win unique prizes:
– Coupons for loading goods: select the train car, plane crate, or Zoo order basket you want to load and tap Spend coupon in the pop-up window.
– Upgrade coupons: go to the Academy of Industry and tap Upgrade, select the attribute you want to upgrade, confirm your action in the next window, and your coupon will be used.
– Coupons for free expansion: tap an expansion you want to unlock and select Expand to use the coupon. Keep in mind that your population must meet the expansion requirements.
– Lab boosters: go to the Laboratory, find the booster you need on the list to the left on the screen, drag it to an empty slot on the right, and the booster will be activated.
Where can I find artifacts for museum collections?
Artifacts for the Archaeology collection at the museum can be found in the mine, with some types only available below a certain depth.
Artifacts for the Around the World collection can be found in treasure chests brought from the islands. Keep in mind that you can only get them if you add an ingot while sending ships: the more valuable the ingot, the better your chances of getting a chest.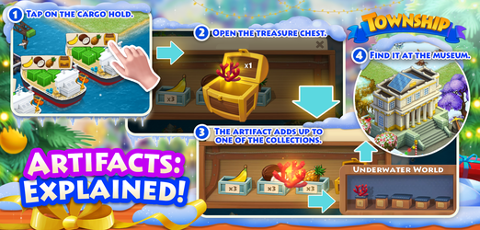 How do I get more stars for a museum collection?
You can get three stars for each artifact collection at the museum. To earn the first one, simply find each item in the collection once. Putting together collections two and three times gets you those second and third stars.
The stars you earn come with Township Cash as a token of the museum's gratitude. The size of your reward grows with the number of stars you've earned.
Why do I need the Laboratory? What boosters does it give?
You can activate a variety of boosters at the lab using gems, giving your town temporary upgrades. Here are the boosters available at the moment:
– Super-harvest: fields yield twice as much.
– Advanced farming: animals produce twice as much.
– Generous customer: orders earn twice as many coins.
– Vibrant market: the items at the market are updated twice as often.
– High-speed production: goods at your factories take 30% less time to produce.
– Favorable voyage: ingots are twice as efficient when sending off ships.
– Efficient smelting: ingots take 50% less time to produce.
– Active cooperation in Township: new requests can be made in 30% less time.
– See the light: makes ore and artifacts from the darkened areas in the mine visible.
There are also 8 boosters which you can obtain for free during events or purchase with tokens at the Yacht Club. These boosters are not purchasable with gems.
– Rich fields: crops are ready 40% faster.
– Profitable flight: filling plane crates earns twice as many coins.
– Record demand: new orders at the helicopter pad appear 80% faster.
– Shortcut: trains arrive twice as fast.
– Smart navigation: ships arrive twice as fast.
– Busy trade: dealer's break time cut in half.
– Spacious barn: increases barn capacity by 20%.
– Large request: requests in the co-op chat bring 30% more goods.
What are achievements?
Achievements in Township are a chance to get more experience points and Township Cash for completing everyday game tasks.
Tap the Town Hall to see the list of available achievements in the Achievements tab. Every achievement comes with a description of what you need to do in order to get it.
All achievements have four levels marked by stars. Reaching a new level earns you a reward, so you get experience points and Township Cash four times per achievement.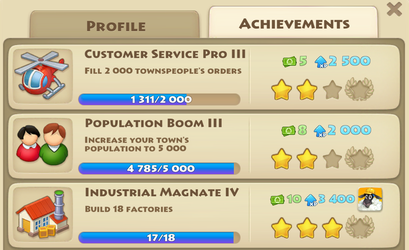 I didn't get an achievement reward. What should I do?
1. Remember the amount of Township Cash you have at the moment and restart the game. That might help process the achievement, at which point the reward will be added to your account.
2. If the reward still doesn't show up in Township, contact our customer support and provide the following information:
– The achievement title and level (e.g.: Customer Service Pro, level 3 – 3 stars).
– The amount of Township Cash you're missing.