Can I take back items I put on sale?
At the moment you can't take back an item previously put on sale in the roadside shop. You can only trash the item by tapping on the "trash" icon in the box where the item is. This costs 1 diamond and allows you to clear space in the roadside shop whenever needed.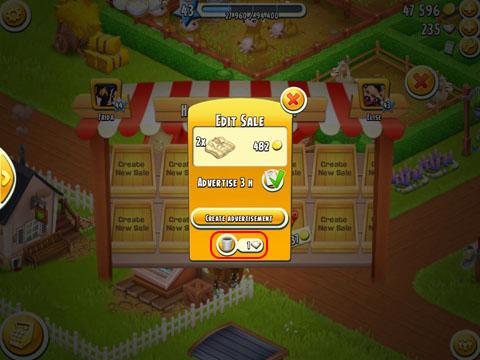 How do I change my name?
Unlike your farm name that you can change in your game's settings, the roadside shop name comes from your Facebook name, your Gamer ID or your Game Center nickname, depending on which account your farm is attached to.
With Facebook it is not possible to change your roadside shop name unless you change your name in your Facebook app.
With Game Center, you can simply go in to your device's settings > Game Center > Nickname.
With Google + just go to your Google play games app and change the Gamer ID.
Once you have changed and saved the new name, it will be seen as your roadside shop name.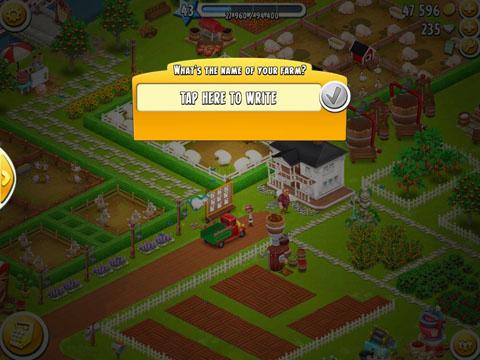 How do I change prices on items in the shop?
To sell items in Hay Day simply visit the roadside shop by tapping on the market stall at the end of your driveway. Tap on an empty box to bring up the item selection menu. Once you have chosen the item you would like to sell, simply tap on the + or – symbols next to the item to adjust the price. Once you are set, tap the green tick button to make the sale!
Protip: If you press and hold on the + or – the price will increase faster!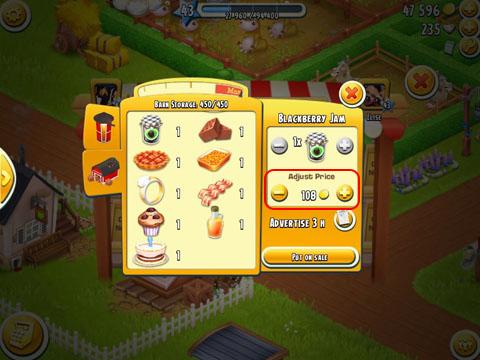 How do I change my profile Picture?
There are two ways to add a profile picture to your Hay Day farm.
1. The first is to upload a picture to your Game Center account under your device's settings.
2. The second way to add a picture to your Hay Day is to connect your Hay Day farm to your Facebook or Google+ profile.
To connect to these accounts, make sure you are logged in to your account on your device, so Hay Day will automatically make use of your profile picture.
How do I sell to other players?
At level 7 you will unlock the ability to put items from your barn or silo up for sale in your roadside shop.
When you tap on your roadside shop, the display will open. Tap on an empty spot to create a new sale. You can select whether you want to sell goods from your barn or silo. Set the price and choose whether or not you would like to advertise the items in the Daily Dirt newspaper. Tap on "Put on Sale" when you are done.
If you do advertise in the Daily Dirt newspaper, your products and their prices will appear in other players' mailboxes each day. If you do not advertise your products, they will only be available to Facebook and/or Game Center friends and your farm followers.
Once a player has bought your advertised items in your shop, you will notice the picture of the customer where the item was. Tap on the picture to collect your profits.
If you want to delete products previously offered on sale, tap on the slot you want to delete and select the trash icon. This will remove the product at the cost of 1 diamond and will create a space in your shop again.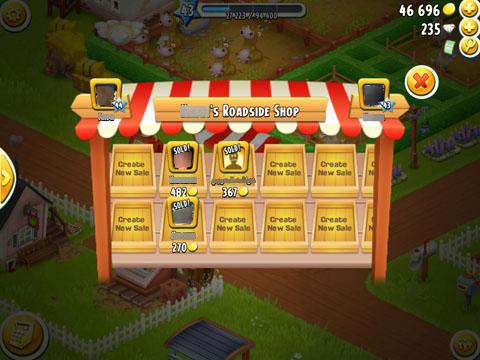 Visualization of Sold Items
Hay Day has a player-driven economy where millions of players compete for the best goods at the best prices in real-time . This means you may not always be able to purchase the item you wanted as it may already have been bought by another player.
In these cases it may seem as if you purchased the item by tapping on it, but the item will not appear in your barn and the cost in coins will not be deducted from you balance. The product will be greyed-out and a "Sold" tag over the item will tell you the item has already been bought.
If you purchased the item you will see coins being spent and the product flying up towards a barn icon at the top of the screen.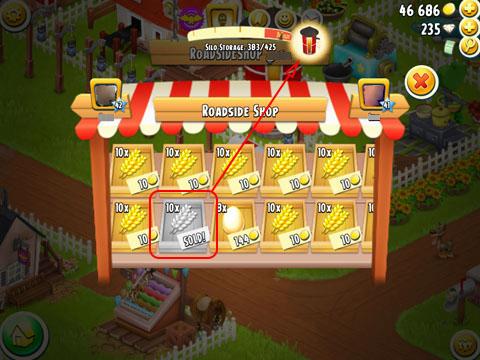 Someone raided my roadside shop
Hay Day is an open, friendly, and social game where players tend to their farms and cooperate with each others towards their own goals.
On this note, friends, followers and other farmers who visit your farm (for example, via the ads in the Daily Dirt) are a vital part of the game. They can help you by purchasing your items, completing your boat orders and reviving your trees and bushes.
There are different ways a player can visit your farm and help you progressing in the game.
The player is in your friends list (either you added him via Game Center or Facebook, or you followed his/her farm).
The player is in your followers list (he/she started following your farm).
The player found one of your ads in the Daily Dirt (and tried to purchase the advertised item).
The player found you in his/her "Last Helpers" list (because you helped him/her out with his/her boat or trees or bushes).
The player found you in the Global Leadearboard.
The player found you in the Event Leaderboard as a contributor.
Please, note that in some occasions, the name you see in one of the lists and the name you see in the roadside shop, when the player purchases one your item on sale, may be different. For example, while in the friends and followers list you see the name of the player's farm, in the roadside shop you see his/her Game Center, Google+ or Facebook username.
At the moment, it is not possible to reserve some slots of the roadside shops to friends only, but we are committed to improving our game with new features. Introducing a way for the player to have some control over who can access the farm is something we are taking into consideration for future updates.
How do I trade with other players?
Trading with other players unlocks at level 7 and allows players to put items up for sale in their roadside shop. Players can set the price and choose whether or not to advertise in the local paper — if they do, their products and the price will appear in other players' mailboxes frequently during day, while if they don't their products will only be available for sale to friends/followers who visit them.
Always the same items in newspaper!
Hay Day has its own economy that is balanced by the millions of players that grow, buy and sell produce in the game.
Produce like eggs & bacon, strawberries, wheat and sugar cane are easy to grow, collect and sell. For this reason you will see a lot of these items advertised in the newspaper.
Other items, such as jam and ice cream are more difficult to produce because they require more time and resources to create. Bolts, nails, mallets and land deeds are also quite rare ordifficult to come across and for this reason you will not see as many adverts in the newspaper for these rare items.
If you find yourself with an excess of one of the more rare items – for example you might have 10 extra bolts than you need to upgrade your barn – you can always sell these items very quickly by advertising in the newspaper. By doing this you will have done your bit to change the economy of the game and created a bit of space in your barn!
We consider the newspaper to be one of the most important features of the game and are constantly working to add improvements and maintain the fine balance of the Hay Day's economy.
Tom offer expired before I could hire him!
You might have noticed Tom holding a yellow balloon with a "%" icon on it. This happens when Tom has a special offer for you, so that you would be able to hire him with a discount.
This offer is valid only when Tom holds the balloon.
If the buttons with the hiring options are greyed out, it means that the offer is over (and the balloon flew away). This is an unfortunate case and it can happen in a couple of circumstances:
A. if the offer ends the very same moment you tap on Tom;
B. if the offer ends while the pop-up with the different hiring options for Tom is open (before you actually hire him).
In both cases, you will have to close the pop-up with the hiring options. The discount will not be available this time, but Tom is generous and he might make a new offer if you hire him!
In this image, the balloon just flew away (on the left). The offer is over. The hiring options are grey.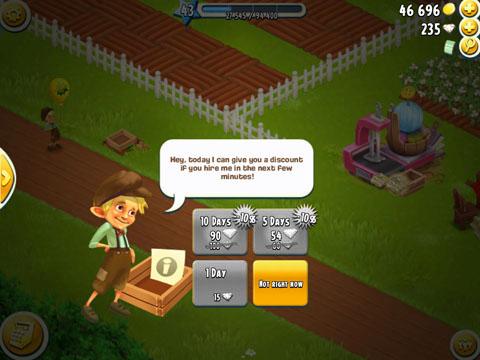 Tom's two hours rest
Currently, the feature is designed so that Tom takes a two hour nap after every errand he runs.
Tom's help is very valuable in the game, as he can provide your farm with large quantities of products very quickly. In order to strike a balance, Tom needs to take a little nap between errands. It may save the little boy's back too, not having to run around with baskets full of crops or heaps of pies all the time. 🙂
Rest assured, as soon as Tom feels recovered from his last errand run he will be happy to help you with a next assignment!:)
How do the Tom offers work?
Whenever you see Tom holding a yellow balloon with a "%" icon on the side, you can tap the balloon to what special offer Tom wants to give!
Take advantage of the offer as soon as you can, because you may never know when the offer will be back!
The balloon will fly away indicating that the offer is no longer available, but tap on the balloon as it is in the air for the chance to get a little gift 😉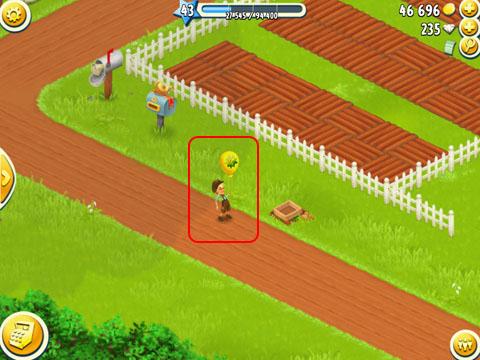 Tom's timer will pause during maintenance breaks
Maintenance breaks are necessary to keep Hay Day running smoothly and free of bugs. Good news! To make sure this interruption doesn't cause you to lose any time with Tom and/or boat orders, the game will now automatically pause these two features when interrupted by a service break. The timer for Tom and Boat Orders will resume automatically once maintenance is over.
Roadside Shop improvements
Now it's possible to set easily the minimum and maximum price with just one click! Now there are additional buttons in the RSS that will allow you to set the price to any extreme much faster than before. Also, now the advertisement of the roadside shop products is deselected by default, this way you won't advertise by mistake those products you wanted to keep for your closer circle of farmers.