How to get more spices?
If you don't receive enough spices, you can get them in different ways:
Find them in the presents.
Find them in the daily bonuses.
Fulfill the phone orders.
Fulfill town orders.
Buy for gems in the Spice Store.
Hire the employee who has a daily bonus "serve the spice".
I don't have enough gems, how to earn more?
There are several ways to earn gems in the game:
You can get gems by performing certain tasks and requests of visitors.
If you are lucky, you can find gems in gifts.
Daily bonuses may also contain gems.
You will also receive gems every time you get achievements! Check your awards shelf to keep track of the achievements.
You can get gems for performing tasks during festival.
When viewing ads on TV (up to 10 times a day), you also get gems.
Winning the competitions in our social groups guarantees you a decent reward with gems.
Finally, you can buy gems in the bank of the game by clicking on the "+" button next to gems balance.
I don't get enough coins, how to earn more?
There are several ways to earn coins in "My Café":
Prepare special recipes. If you offer your visitors "something special", profit will increase.
Raise your tip's level. Tips are calculated per the "style" of your café. The more various styles are mixed in your café the less tips you will get. So, the café which is completely designed in a one style is your profit guarantee.
Complete phone orders. They don't offer you much coins, but spices will be useful for increasing income in the future.
Complete orders from the city. They also bring spices.
Participate in our social group's contests. Winning the competition will bring you reward and also help to quickly develop your café.
Finally, you can always buy gifts and promotional offers. They greatly help in the coffee business, as well as bring you unique vip-points, which open new opportunities for players in the game. Despite the high utility of these bonuses, they are not required to complete the game.
How to raise level faster?
The easiest and most fun way to quickly raise level – is to play a lot!
Your every action brings experience, but you get the most points for fulfilling wishes of your customers and helping them in different situations. The more experience you have, the more you can improve your cafe by furnishing it in the same style, buying new machines and opening new recipes.
Continue to chat with your clients! They can't wait to tell you the latest news!
Do you need to pay real money in "My Cafe"?
Even though "My Cafe" is a free game, we provide opportunity to purchase items for in-game currency (gems and coins), which, in turn, can be purchased for real money. You can make such purchases directly from the game. They can be carried out through online stores iTunes and Google Play, which ensure maximum security of personal data and financial information.
For us it is very important to give players the opportunity to choose how to play the game, so regardless of whether you invest real money in the game or not, all game activities and content will be available to you. The only difference is in the pace and speed of development.
Please, visit our social group on Facebook, to get more details and leave your suggestions.
My cafe doesn't generate revenue, while I'm not in the game! What to do?
Make sure that you turn the game off correctly. When quitting, you should see a screen asking "Quit current game?". The game process also should be turned off in the task manager. If the problem persists, check that you haven't assigned your workers to phone orders. You won't receive any earnings if you did so.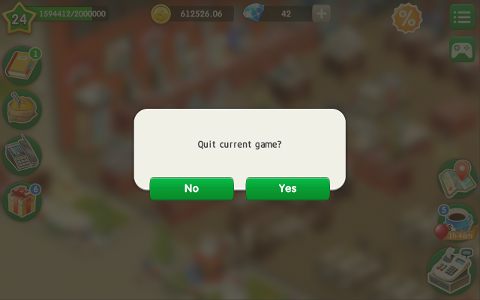 How are daily bonuses added?
In My Cafe, each player can play the "Daily Bonus" game. You just need to enter the My Café game. You will see all the possible rewards in the "Daily Bonus" window that appears. After tapping the "Play" button they will be packed in boxes, one of which you will have to choose. Your daily reward depends only on you and your luck.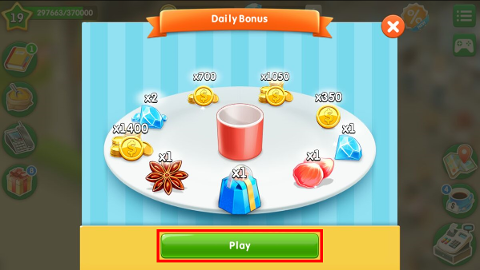 If you would like to participate in the game for the second time in a day, you only need to view an ads video.
You can also open the "Daily Bonus" game window from the in-game menu.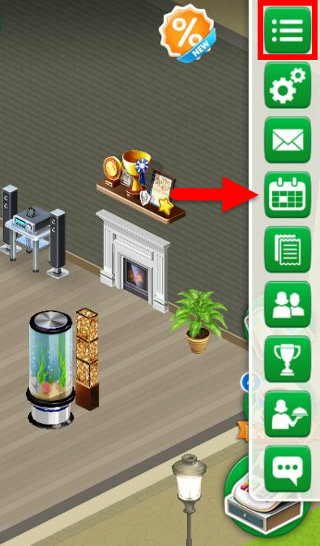 How to use game tickets?
Game tickets can be used in the daily bonus:
You get one free attempt to open boxes in a daily bonus every day. The attempts don't stack or transfer to the next day.
To start using tickets, you need to use your free attempt and open one box for watching the video (also available once a day).
After using two attempts, you can start using tickets. If you have enough of them, you can open all the boxes.
There are two ways to get tickets:
Complete a chain of orders – sometimes (but not always, the chance is random!) visitors will give you tickets instead of a simple gift.
Buy – click on the ticket and go to the store. A convenient way if you have the last box standing and need to open it, but the tickets are over.
Of course, you can prepare for the festival and collect tickets throughout the week. It's very convenient!
After opening all the boxes, you will see the time when the next bonus will be available.