During your adventures in game Chibi Island on the island, you will meet the Mysterious Buyer. He can exchange the treasures you find around the island for gold coins and other useful resources.
You can find treasures in various chests, crates, and vases hidden around the island.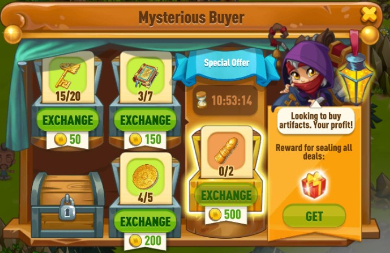 Next to each treasure, there is a counter that shows how many items you can exchange for a reward. It is unnecessary to collect all the items to complete an exchange, and you can turn in the items you have at any time.
The exchange button will be active as long as you have items that the Mysterious Buyer requires. When you exchange all items in one of the offers, the chest will close — it means that the order for this item has been fully completed.
A special offer is a limited-time offer to exchange rare items for a better reward. Once you complete all the offers, you will receive a special gift containing various useful resources.
As you proceed with the story quests, the Mysterious Buyer will sometimes disappear and then come back again. This window pops up when he's about to leave:
Note!: You can either choose to complete the remaining orders or continue with the story quests. In the latter case, the Buyer leaves and comes back later with the new orders. The old orders will disappear.