The game is completely free, there's everything you need for a comfortable game, whether it's energy, resources, coins or gems. However, we always leave a choice to a player, and in order to speed up the gameplay, you can buy some items for real currency.
I don't understand the quest
Exploring the Islands is both exciting and dangerous, but no one is left in trouble! Tap a question mark next to the task and you'll see a hint!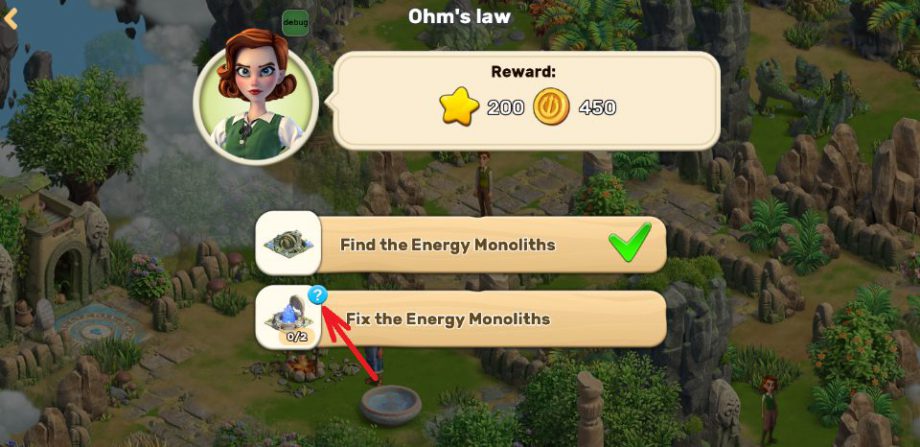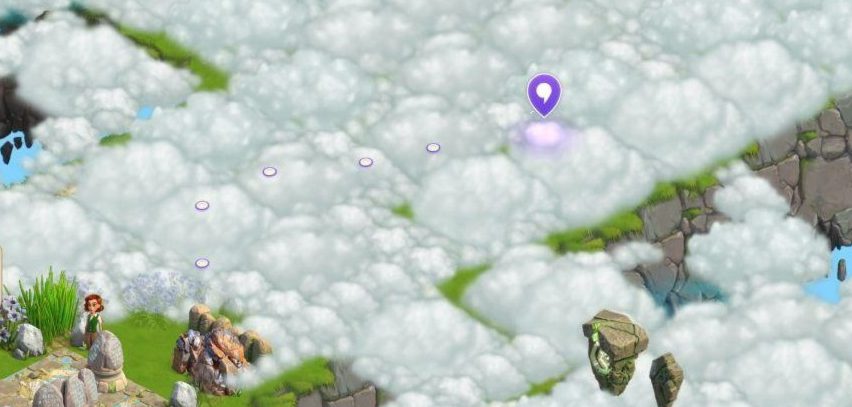 It can also point you to the necessary object with an arrow: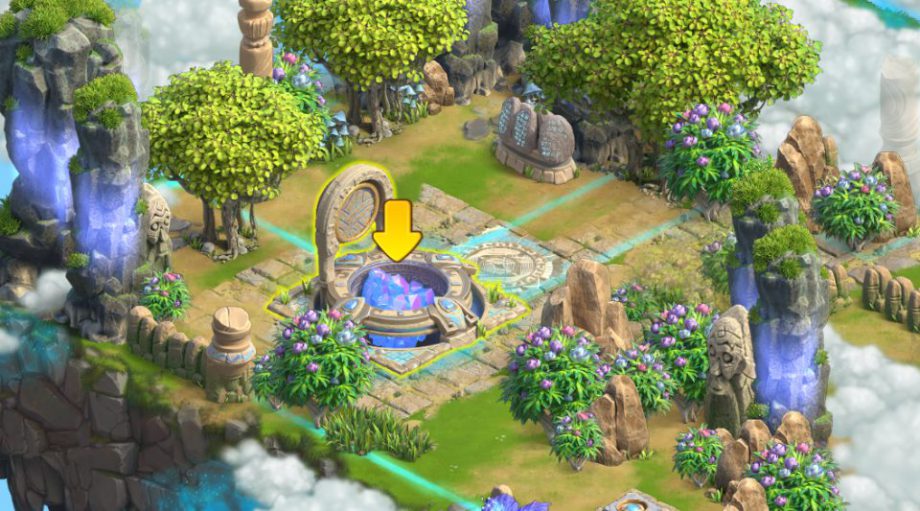 How to move items in my camp?
To move a building or decoration, tap and hold it for some time. Focus on the green area under the object and move it to any location you need. Tap the green tick on the bottom to save the selected position. If the area under the object is red, you'll not be able to move it to the selected place, because there's not enough space.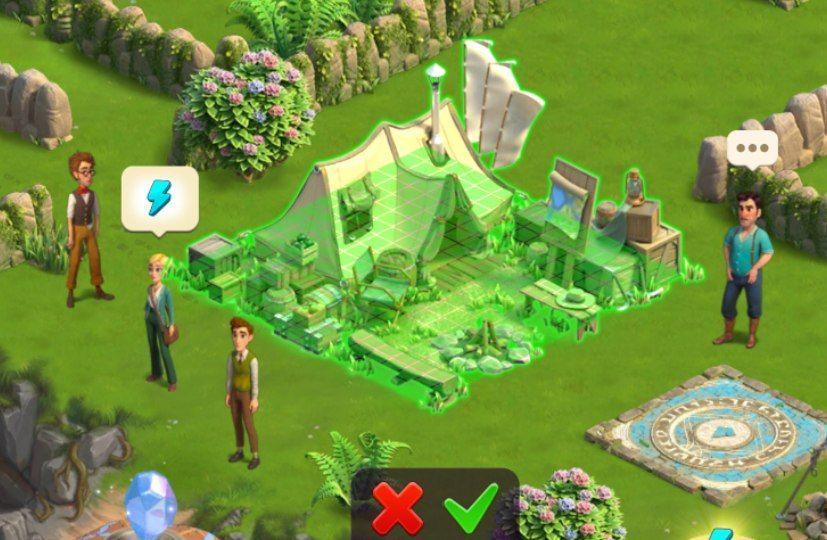 The factory cannot be moved if something is currently being produced there. Wait for production to finish and try again.
You can't move grass, rocks or trees if you can cut them out. If you want to decorate your camp with similar objects, you can buy the same decorations in the Shop.
Storage
To move faster through the locations, resources are put in Storage. Much more convenient than in your pockets, isn't it? All your resources can be found by tapping on the backpack icon in the lower right corner.
The Storage is divided into several departments:
– resources found on the locations
– crops grown on beds
– some processed and most valuable resources
– various jewels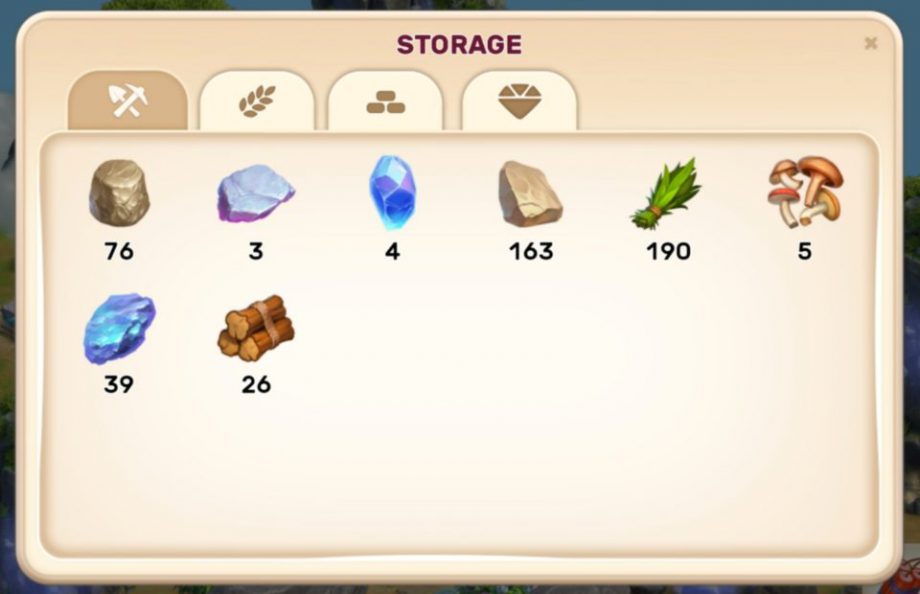 Where is the Shop?
You can find a lot of useful and interesting things in the Shop. To go shopping, move to the camp and tap the icon with a trowel and a brick wall in the lower-left.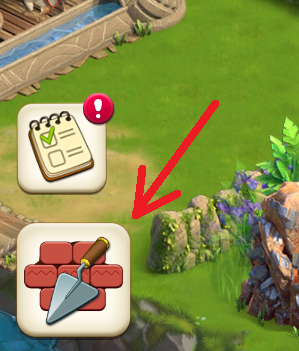 You will see a Shop menu divided into several departments:
new available items
factories and other buildings
farm and livestock products
decorations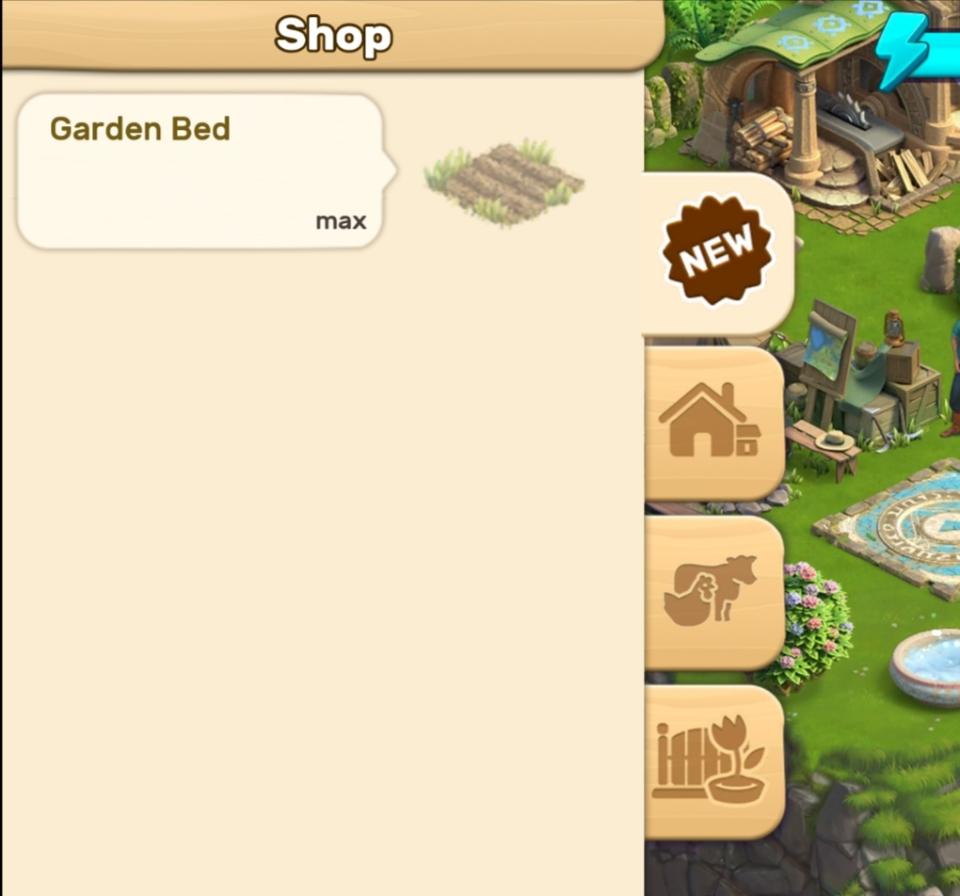 Not all items and buildings in the game can be purchased, some of them will become available when passing the storyline. Use Help menu to find what you need or contact our Support team if you can't find something 🙂
What game bonuses can I get?
The Spirits of Atlantis generously endow the diligent and willing travelers. Here are some of the bonuses you can get:
Daily bonus
Enter the game every day and receive a gift immediately after starting it. The gift can contain energy, resources, crafts, coins, gems and experience points. You'll get a special gift for your 20th day in the game.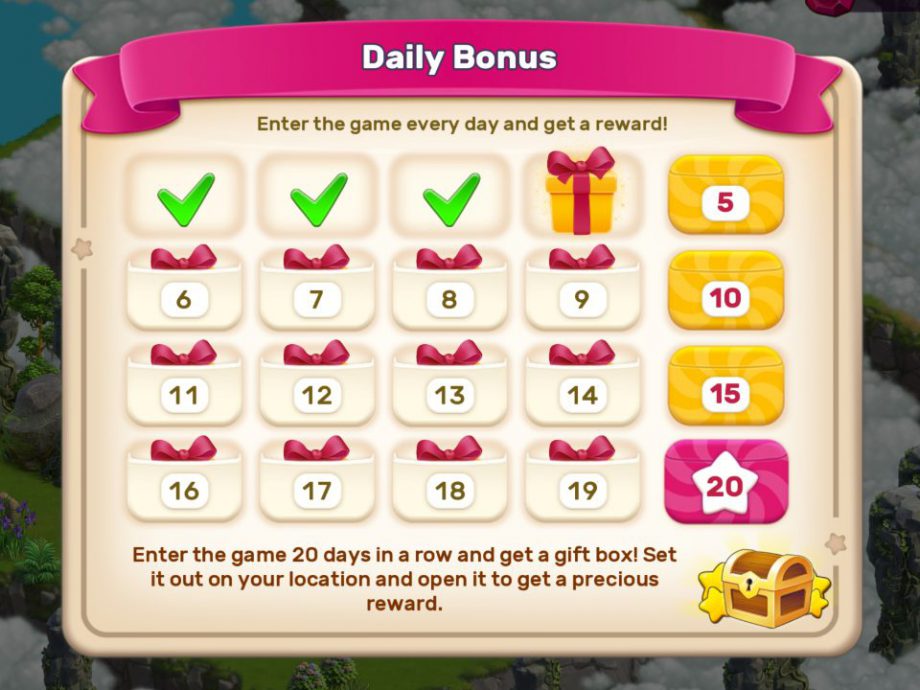 Researcher Bonus
Get energy and experience points for the time spent in the game. The more time you spend, the more gifts you'll get! After receiving the bonus it will be available again the next day. The bonus opens at level 6.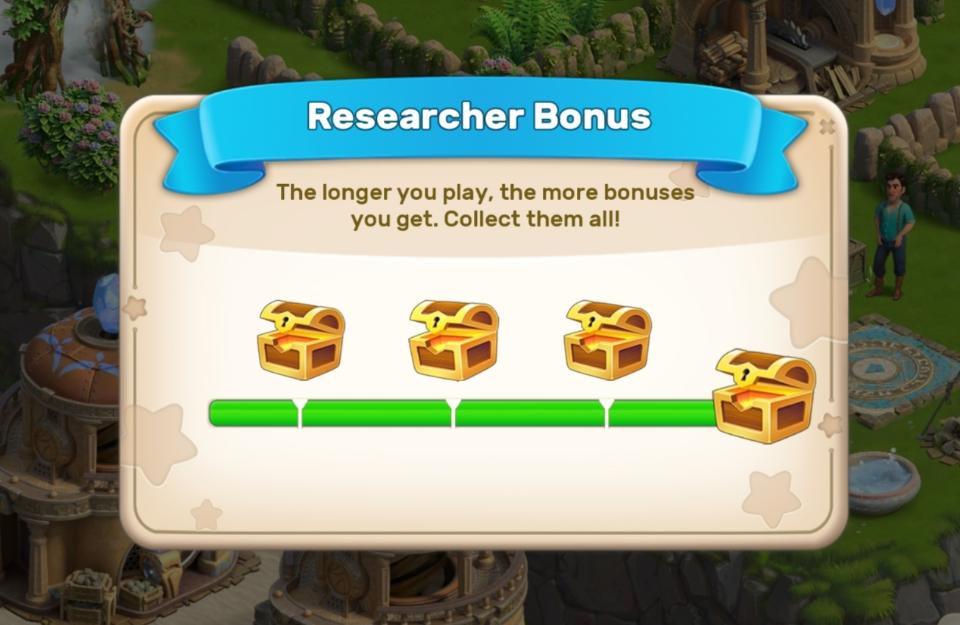 Daily tasks
Complete daily tasks and get chests with coins and experience points.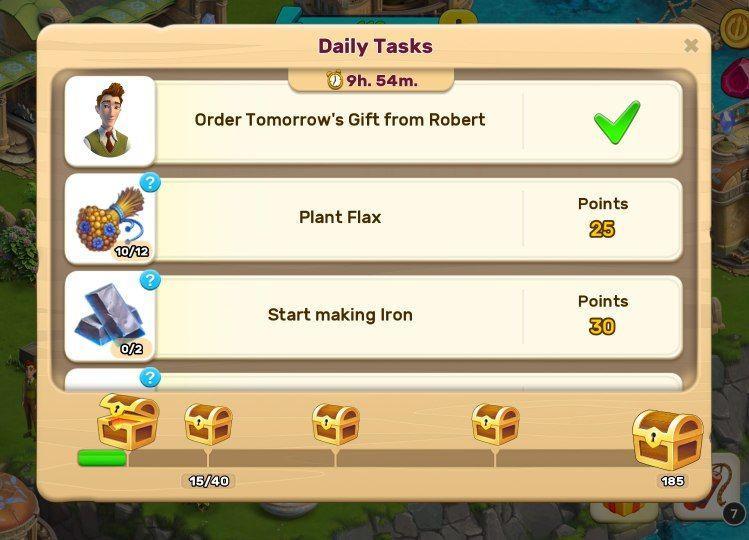 Tomorrow's Gift from Robert
Choose a gift and you will receive it the next day! It can be Energy, Coins, Wood, or Surprise. If you choose Surprise, nobody knows what Robert will prepare for you. It can be everything, from a bunch of stones to a handful of gems.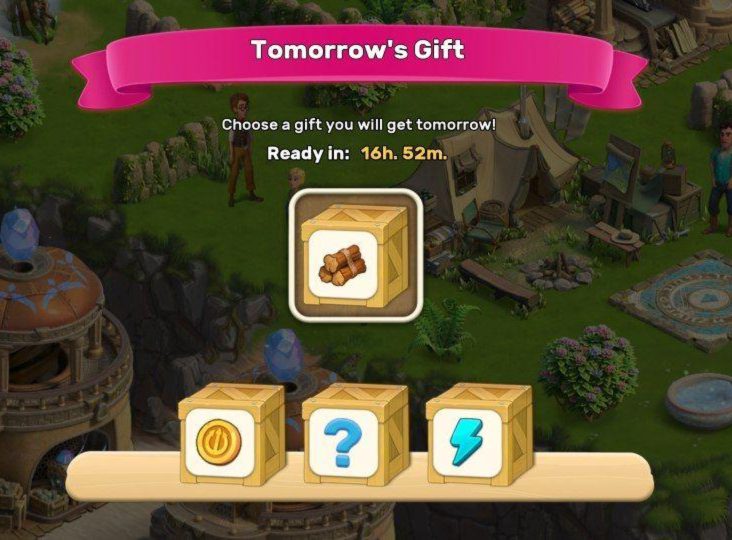 Pay attention to unusual objects in the game. You can get energy and experience points from magical trees, blue flowers and shells. Abandoned houses, fountains and monoliths are full with gold. What is more, there're treasure islands which can be opened with magic cubes!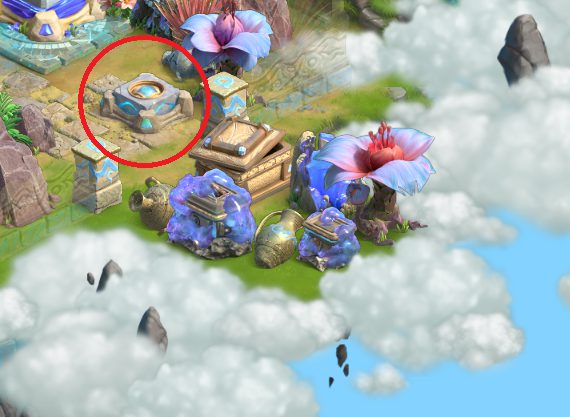 How to complete Amanda's tasks?
Amanda often orders something. You can get energy and experience for completing her orders. To complete an order, collect everything she needs and then tap on each ingredient and the "Give" button. Amanda won't accept an order if some part of it is missing.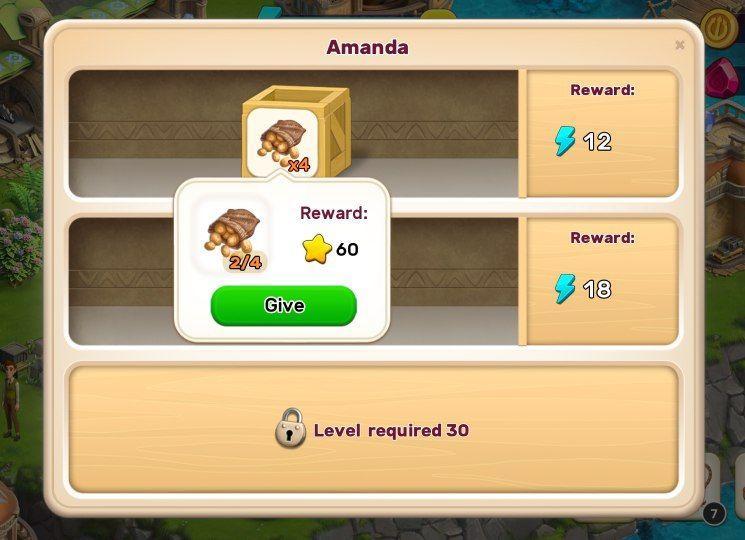 How to complete Franco's tasks?
Franco is well known for his generosity, but he will ask for no less valuable resources in return 😉 Talk to him to see all his orders, maybe some of them you can already exchange for coins and experience. If you are particularly lucky, he can also offer crystals and fertilizers as a reward!
Select the order you need and tap the "Give" button to receive the reward.
If you don't like his offer, you can replace it by tapping the red icon with urn next to the "Give" button.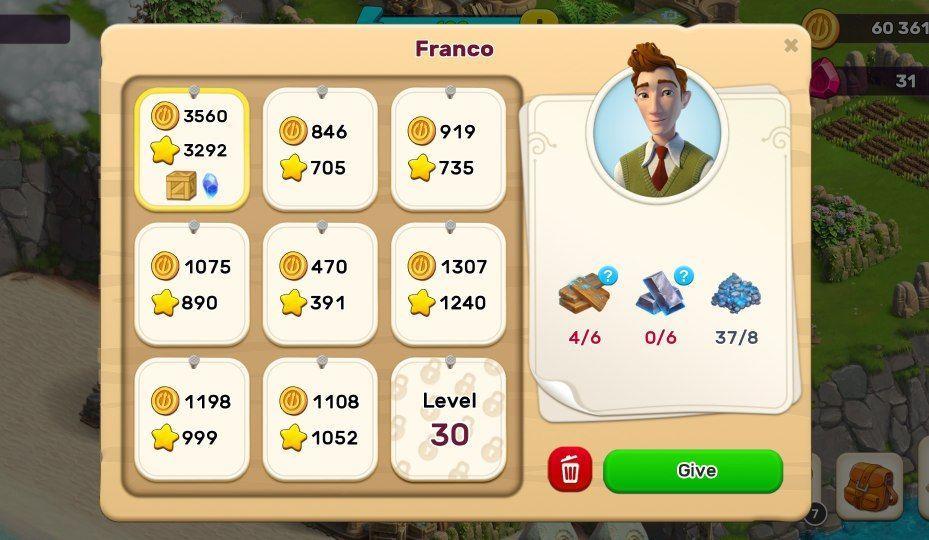 How to play the mini-game 'Pierre's Sea Friends'?
It's a matching game where you are to combine matching tiles to create more valuable figures. You can play this mini-game in a ship near your camp.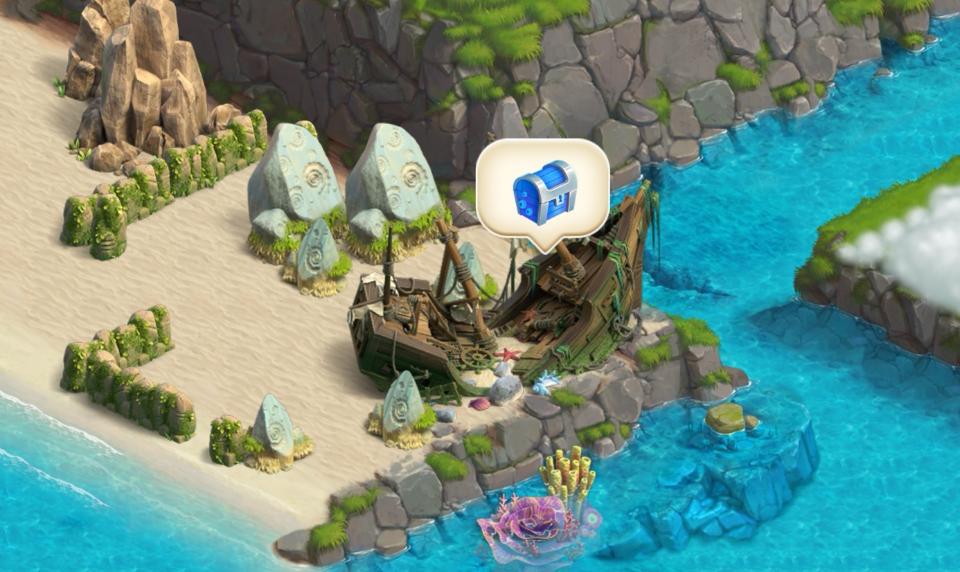 Move the tiles up, down, left or right, connecting same figures. You have 150 moves. When they run out, you will receive prizes for each tile you create. On the right are all types of animals that can be created and the reward for them.
The game is over when there are no more moves left and the board is full. If you want to get to the mythical Chest tile, you'll have to think strategically and plan your moves carefully. The game can be played every hour.
Where do I find my ID?
You can find out your ID in two ways:
1) When loading the game, your ID will be written in the upper left corner.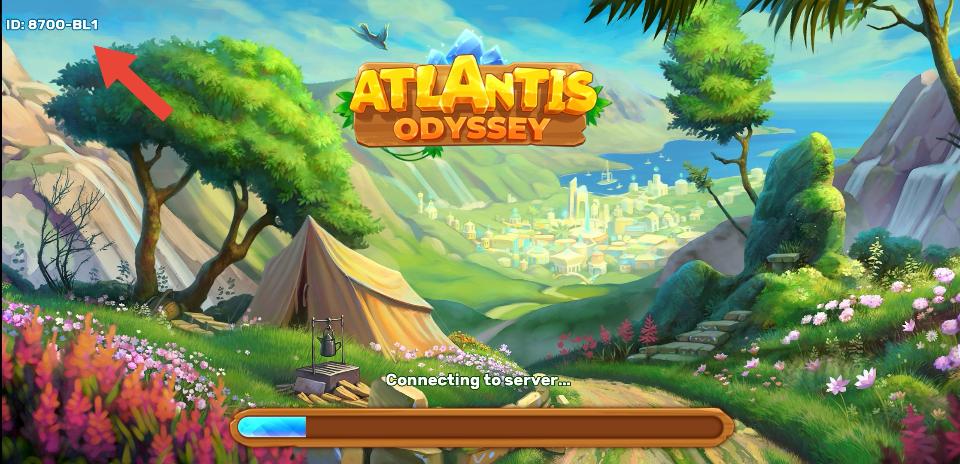 2) Having entered the game, tap the gear button in the upper left corner, and you'll see your ID there.