The old world is gone in The Walking Dead: Survivors and replaced by a new world. A new world, means a new history – one that's being written in a new function: The Chronicles! In The Chronicles, great milestones of the State and your Clan are recorded. When a milestone is reached, there will be amounts of rewards like Rubies and summon cards for you.
How to play?
1. Unlocking The Chronicles
Reach Town Hall Lv.9 to build The Archives. This is the building that gives access to the Chronicles interface. The interface will display tasks, rewards, opening time, countdown times and so on.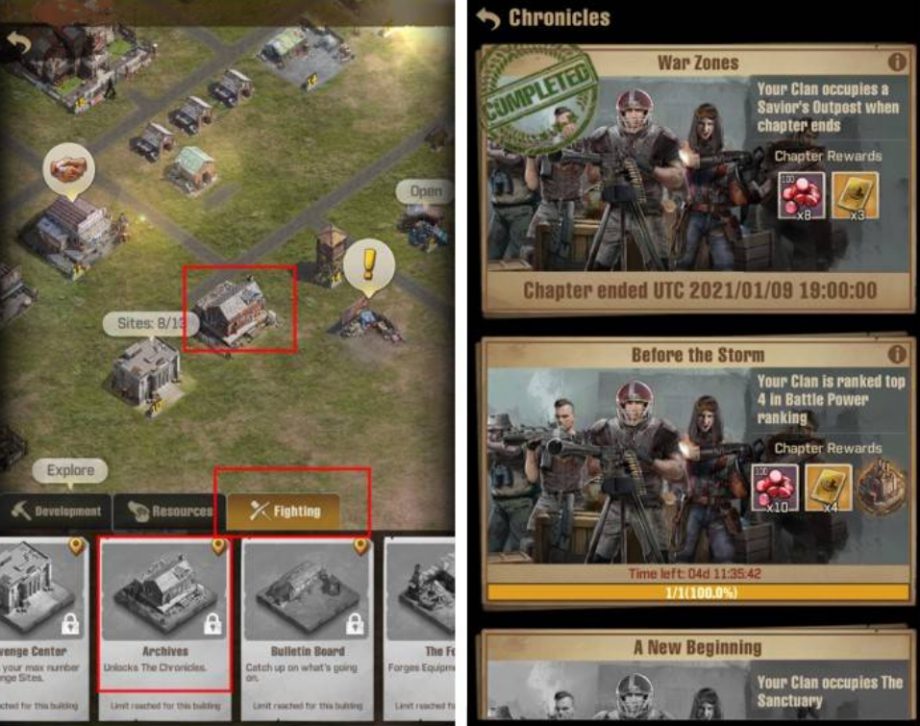 2. Unlocking chapters and claiming Rewards
Each chapter in The Walking Dead: Survivors has a countdown. The next chapter will start when the countdown ends. Complete the chapter's task before the countdown ends, in order to claim the chapter's rewards. Only after the countdown ends,  could you claim the rewards, please wait patiently.
3. Past actions may count towards future tasks
Actions done in the past, will count towards tasks that are opened later. (Example: if the third task is that your Clan has to own 5 Lv.1 Communities, and before the end of the second task your Clan already owns 4 or them, these 4 will count for the third task as well. There's no need to start at 0).