In Rise of Kingdoms, every player commences their digital career as the ruler of a City in a beginner Kingdom. It is common for players to switch Kingdoms to be nearer to their Alliance members, and many choose to relocate for this reason.
However, if you wish to change your location within the same Kingdom, there is a solution. Players who are already in a Kingdom can relocate their City Halls with the assistance of Teleports. Relocating a City Hall or moving is not the same as migrating with a Beginner Teleport, as you remain within your current Kingdom's borders.
If you're interested in learning more about teleports in Rise of Kingdoms, including where to obtain them, the various types available, and how to use them, read on.
How to Teleport in Rise of Kingdoms
If you're looking to move your City Hall to a new location within your Kingdom in Rise of Kingdoms, teleportation is the way to go. However, before you can teleport, you need to obtain some Teleports.
There are a few ways to acquire Teleports, with the most common method being purchasing them from the game's shops. However, keep in mind that supplies are limited, so you can't buy as many Teleports as you might want.
Another way to get Teleports is by participating in Events. This can be a great way to earn Teleports while also enjoying the game. Once you have acquired Teleports, you can use them to teleport your City Hall to a new location within your Kingdom. This can be a helpful way to get closer to your friends or find a new location to play in.
The sources for Teleports in the game are limited and include the Shop, VIP Shop, Mysterious Merchant, and Era Breakthrough Event. The VIP Shop is the preferred destination to purchase Teleports as the cost reduces with a higher VIP level. For instance, when you attain VIP 6, Targeted Teleports drop to 50% of their original price. However, keep in mind that the VIP Shop's stock depletes after a while, and you need to wait until 00:00 UTC to replenish your supplies. Although the regular Shop's Teleports are not as affordable as the VIP Shop, it's still a viable option when the VIP Shop runs out.
The Mysterious Merchant appears in the Courier Station of your City Hall, offering random discounts on her products, including Teleports. So, it's worth checking regularly to take advantage of any discounted Teleports when she's available.
Additionally, the Era Breakthrough event for upgrading your City Hall also provides a free Targeted Teleport upon reaching City Hall Level 23. So, make sure to utilize this opportunity to upgrade your City Hall and acquire a free Teleport.
In conclusion, Teleports are a valuable resource, and players should be mindful of their usage and explore all possible sources to optimize their gameplay.
Types of Teleports:
Within your Kingdom, there are three types of Teleports available for you to use in relocating your City Hall. However, the Beginner's Teleport, which moves your City Hall from one Kingdom to another, is not included in this category. We will discuss changing Kingdoms in more detail below.
The three types of Teleports are as follows:
Random Teleport: This Teleport allows you to move to a random location within your Kingdom. You can obtain it from the standard Shop, and it is the least expensive option. If you're feeling lucky, you could give this Teleport a try.
Territorial Teleport: If you're a member of an Alliance, you can use this Teleport to relocate to any location within your Alliance's territory. You can purchase Territorial Teleports from the Mysterious Merchant or the standard Shop.
Targeted Teleport: This Teleport allows you to move to any location on the Kingdom map. You can purchase Targeted Teleports from the Mysterious Merchant, standard Shop, or VIP Shop. Alternatively, if your City Hall has reached Level 23, you can obtain them for free.
Although Random Teleports are the least expensive, Targeted Teleports are the most costly. However, these prices are subject to change, depending on the vendor. Typically, purchasing Territorial or Targeted Teleports from other sellers is more affordable.
How to Get More Teleports in Rise of Kingdom
If you want to get more Teleports in Rise of Kingdoms, there are several ways to do it. Here are some tips to help you earn them:
Check the shops and sellers in your City Hall. They often offer Teleports for sale.
When you start a new game, you'll get one Beginner Teleport immediately. To obtain more Passport Pages, you can spend Individual Alliance Credits or purchase bundles.
The three main Teleports in the game require Gems, which can be earned through various activities. Here are some ways to get them:

Upgrade your City Hall
Participate in events
Fight Barbarians and destroy their forts
Complete quests
Link your account to Facebook
Follow the game's social media pages
Complete daily objectives
Mine Gems
Join an alliance with players who buy Chests often
Be the first alliance to occupy an objective within the kingdom
Buy Gems with real money

It's important to conserve your Teleports, especially if you don't want to spend money on the game. While it may take longer to earn enough Gems, it's possible to do so through consistent gameplay.
By following these tips, you'll be able to get more Teleports and make progress in Rise of Kingdoms.
How to Teleport to a Different Kingdom
To teleport to a different Kingdom in the game, you will need either a Beginner's Teleport or Passport Pages. These items allow you to migrate to any Kingdom of your choice, but there are some conditions you should be aware of.
Beginner's Teleports
When you first start playing the game, you will receive a Beginner's Teleport. Reaching City Hall Level 7 will also earn you another one. However, these teleports are only valid for 10 days from the time they are obtained. Therefore, if you plan to migrate, you must level up quickly and use it before it expires.
Here is how you can use a Beginner Teleport:
Open Rise of Kingdoms.
Zoom out of the main screen as much as possible.
Locate the globe at the bottom-right of the screen.
Choose the new Kingdom you wish to migrate to.
Confirm your selection by selecting "Teleport."
The game will restart, and you will now be in your new Kingdom.
Before migrating, you can preview your new Kingdom by clicking on the "View" button located to the left of the "Teleport" button. This allows you to survey the Kingdom and get a closer look before making your decision. You can change your mind after taking a deeper look at a few Kingdoms.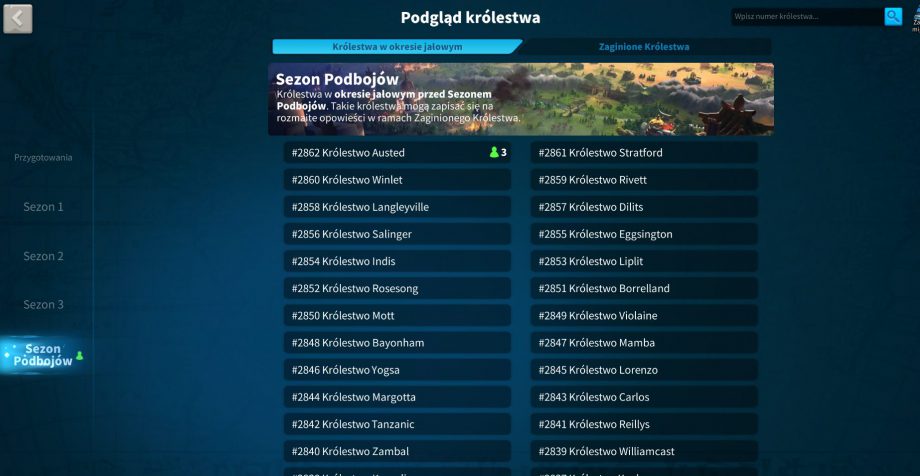 Once you have used both Beginner's Teleports, you will not be able to obtain any more. If you wish to change Kingdoms again, you will need to buy Passport Pages.
To use a Beginner's Teleport, the following requirements must be met:
Your City Hall must be below Level 8.
You must have idle march queues.
You must not be in battle.
You must have no reinforcements inside the City Hall.
Your new Kingdom must have fewer than three of your characters after teleporting.
You cannot be in an Alliance.
All about Passport Pages
While Passport Pages may seem expensive, joining a powerful Alliance can make buying them easier. The number of Passport Pages available to you is dependent on your City Hall's total power rating. The higher your power rating, the more pages you'll need to purchase.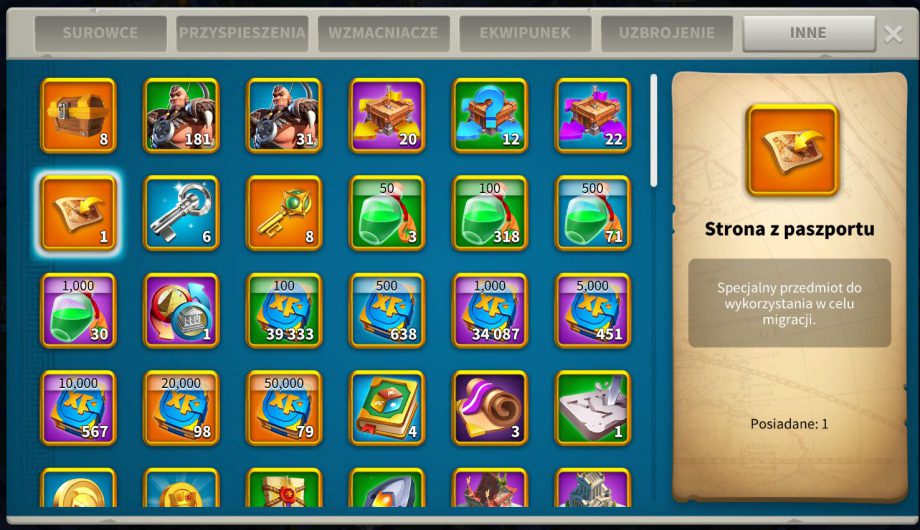 Each Passport Page costs 600,000 Individual Alliance Credits and can be obtained from the Alliance Shop. However, they can go out of stock, which means that Alliance Leaders or Officers must spend 100,000 Alliance Credits to restock them.
To use your Passport Pages, follow these steps:
Purchase enough Passport Pages based on your power level.
Zoom out of the main screen.
Select the globe icon located at the bottom-right corner.
Choose a new Kingdom target for migration.
Click on "Immigrate."
The game will restart, and you'll find yourself in your chosen Kingdom.
With Passport Pages, you can relocate to any Kingdom as many times as you want. Rise of Kingdoms does not restrict you from moving to different Kingdoms every month. The only things that can hinder you are Alliance Credits and the number of Passport Pages required.
For instance, players who hold the top ranks in the game with a power over 100 million will need to purchase 75 Passport Pages, costing up to 45,000,000 Individual Alliance Credits. However, if your power level is not near that range, you may require less than 12 Passport Pages to migrate.
As your city power is influenced by troops and other factors, you can utilize a few tactics to decrease your power rating and reduce the number of Passport Pages you need. These tricks include killing off your siege units, filling up the Hospital, and avoiding the use of speedups.
By lowering your power rating, you can save a significant amount of Individual Alliance Credits, and your Alliance Leader won't need to restock as frequently. However, if your Alliance has ample resources, this may not matter as much to them, and you will likely find the Passport Pages restocked regularly.
Using Passport Pages also has specific prerequisites, similar to Beginner's Teleports. Your City Hall must be at least Level 16, all troops are in the city, and march queues are empty. Moreover, your city should not be in battle, and your resources should be within the storehouse capacities. If required, you can donate some resources to fulfill this requirement.
Additionally, it should have been at least 30 days since your last migration, and the Kingdom you wish to move to should not be participating in Kingdom vs. Kingdom. You must also leave your Alliance before migrating and can only relocate to Developed Kingdoms that are more than 120 days old.
Imperium Kingdoms stand out as the top-tier alliances in Rise of Kingdoms. Any player with a city power of under 25 million can effortlessly migrate to any Imperium Kingdom of their choice. However, if your city power exceeds this limit, additional rules apply.
To join an Imperium Kingdom, you must first obtain approval for Special Immigration from the King. Only Governors who meet the stipulated requirements are eligible to apply, and their applications must receive approval. It's worth noting that each Imperium Kingdom can only approve one player each month, so competition can be fierce.
Furthermore, it's important to act quickly since applications are only valid for three days from the moment of submission. Overall, joining an Imperium Kingdom can be a significant milestone in the game, but it requires careful planning and strategy.
Revised FAQs
How can I teleport to my Alliance in Rise of Kingdoms?
To teleport within your Alliance's territory, you need to use a Territorial Teleport. These can be purchased from shops and sellers. When used, the Territorial Teleport will move your City Hall to any available location within your Alliance.
If you want to move your city within your current Kingdom, you can use any of the three main Teleports. Random Teleports will take you to any location within your Kingdom by chance, while Targeted Teleports allow you to move your City Hall to any suitable location within your Kingdom.
If you wish to teleport to another Kingdom, you will need to use a Beginner's Teleport or the required number of Passport Pages. However, there are additional requirements that must be met before you can make this move.
I'm planning to move my city soon, what do I need to know?
Whether you want to move your City Hall within your current Kingdom or switch to a new Kingdom, the proper Teleport items are necessary. Many players choose to move their City Hall closer to their Alliance members, while others want to join an Imperium Kingdom. The possibilities are endless as long as you have the correct item in hand.
If you're moving within a Kingdom, you may need to use a Random or Targeted Teleport. On the other hand, if you're planning to migrate to another Kingdom, you will need to use a Beginner's Teleport or have the required number of Passport Pages. Keep in mind that there are additional requirements that you need to fulfill before making this move.
Have you moved your City Hall within a Kingdom before?