Get your resort ready to be featured in a top lifestyle magazine! The Wed In Style magazine is compiling a list of the best island resorts for a destination wedding. Each resort will be ranked so put out your best ideas for the perfect destination wedding, complete with a model bride and groom to pose for the picture, so your resort will top this prestigious list.
If you're at least level 9, you will receive a pop-up for the Top Wedding Destinations event. You will need to force-close the game to see the update, or even reboot your device.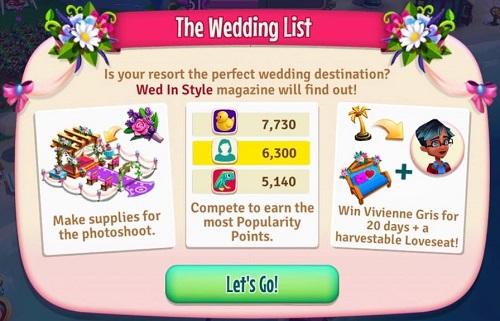 The competition is made up of two rounds. The first round begins on October 16 and ends on October 19. The second round starts on the 20th of October and lasts until the 25th of October. Players will compete for the highest rank in the Leaderboard. You'll receive Vivienne Gris as temporary farmhand for 20 days when you reach Gold Rank in the first round. Get a Gold Rank for both phases to also win a harvestable Romantic Loveseat!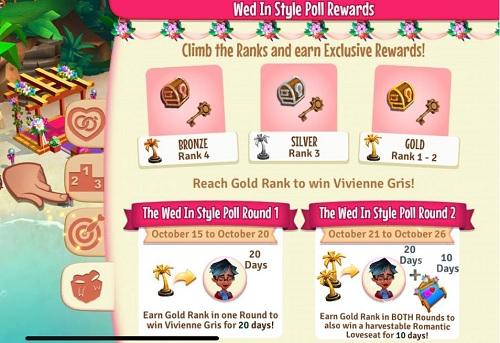 You can begin the event by tapping on the Bridal Arbor, a temporary area near the beach which gets improved and decorated while you finish each phase.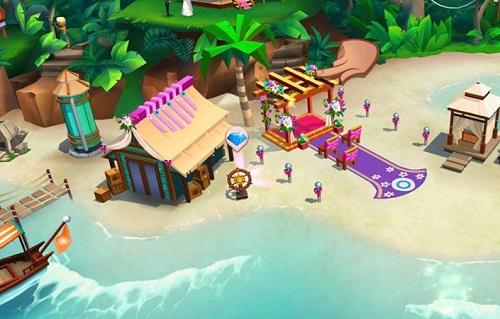 You can search the island for materials to use in crafting the items shown on the orderboard. Each of the items you craft will give out a different number of Popularity Points.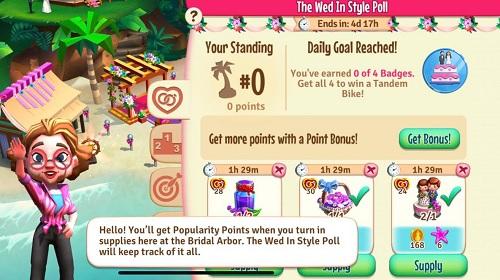 Fill up as many orders as you can to move up faster in the Leaderboard.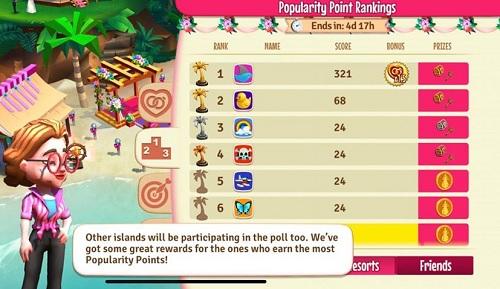 As you progress in the Leaderboard, you will also be able to reach your daily Popularity Point goals! Reaching daily goals can unlock rewards!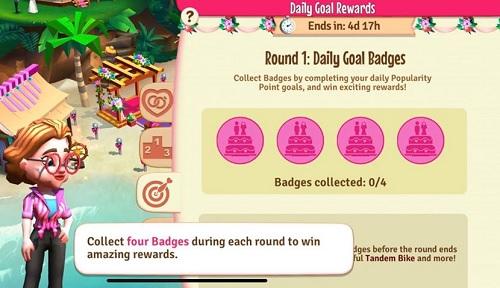 Temporary Place of Interest: Photo Booth Island
Guides can search for items around the Photo Booth Island to find ingredients and crafts to be used in decorating the Bridal Arbor. This is a temporary landmark where you can search for event items needed during the Top Wedding Destinations event.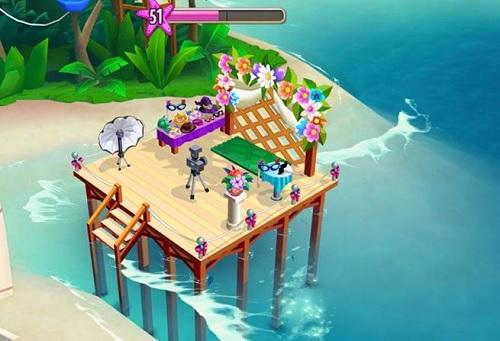 Temporary Guides: Paolo and Louisa May
You can purchase Paolo and/or Louisa May as Temporary Guides to help you out during the event. They will give you a higher chance of finding rare ingredients. Paolo is better at searching the Photo Booth Island, while Louisa May is more skilled at searching your permanent Landmarks.