In Merge Inn, your goal is to help Maisie and her trusty sous-chef Mort to feed the hungry patrons of her restaurant. Along the way, you'll discover many new recipes and food items, improve and upgrade your kitchen, learn new exciting cuisine, and take on challenging Side Jobs.
Here you can find help with getting ahead in the game. Have fun merging!
How to merge
Drag identical items together on the Kitchen Board to merge them into higher level items. You can make an unlimited number of merges, but to get more items to merge, you need to tap on your Containers. Each Container will give you a number of a certain type of items, before it needs to be recharged. The number of items available per charge depends on the level of the container. Getting items from Containers consumes Energy.
Tip: Some items are not available directly from containers, but from other items you create by
merging. To get these items, you need to first merge the sub-container together, and then you can access the item chain in that item.
What is Energy?
Getting items from Containers consumes Energy. When you have used up your Energy, it will automatically regenerate over time up to 100 units.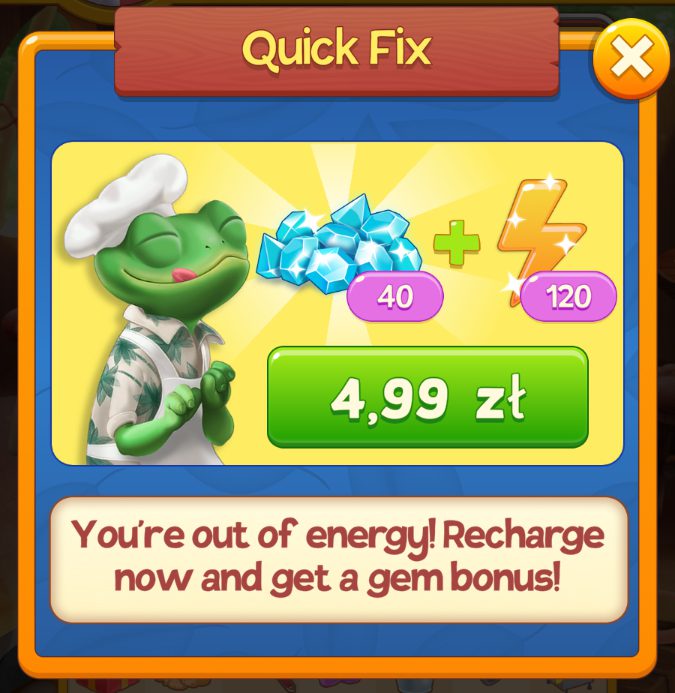 To refill Energy instantly:
Use gems to purchase a refill
Watch a video ad in exchange for a partial refill
Use Energy items obtained from various
Tip: Merge Energy items into higher level ones to get more Energy.
What are Containers?
There are multiple types of Containers on the Kitchen Board, and you will discover more as you progress further in the game.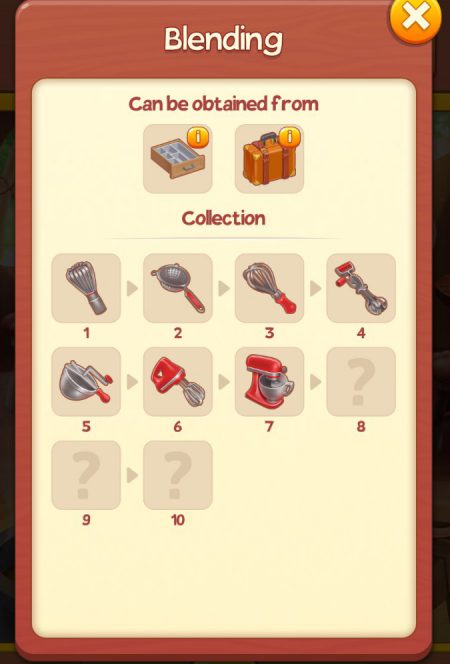 Tapping a Container generates items on the board. Each type of Container gives different items, with their own item chains. Containers give a limited number of items, before they need to Recharge over a period of time.
Recharging Containers While a Container is Recharging, you can:
purchase an instant Recharge with Gems
speed up the Recharge timer by watching a video ad.
Upgrading Containers
You can Upgrade a Container by merging Container parts, and merging Containers of the same type and level.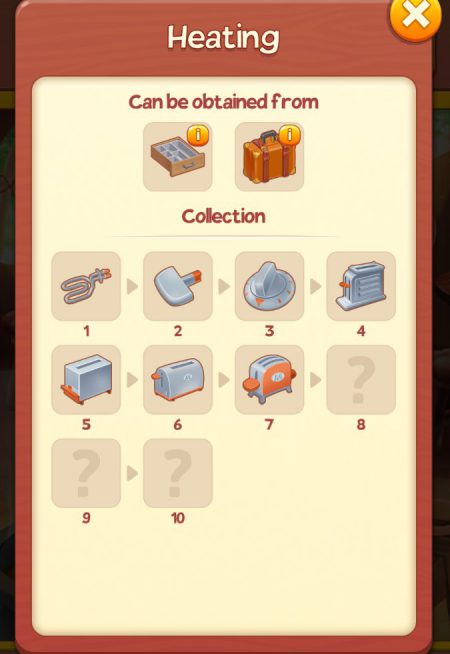 Tip: Upgrade your Containers regularly – upgraded Containers give more items before needing a
Recharge. They also have an improved chance of giving better items.
What are Orders?
In each Level, you need to complete a set of Orders from customers.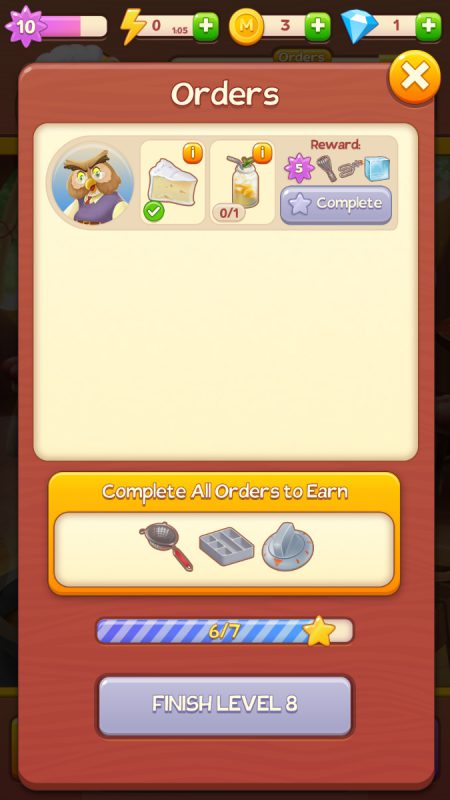 You can view the active Orders on top of the Kitchen Board. For each item in an Order, you can tap the [i] symbol to view how you can get the item. In the Orders view, you can also see the rewards for completing the current Level.
Finish all active Orders to complete the current Level.
Tip: Always check the Orders list and see which items you already have on the Kitchen board – figure out which items you want to merge first, without crowding the board!
Stars and Star Chest
You get Stars for completing the individual Orders. Stars unlock the Star Chest rewards in the Home Screen.
Level Chest
The Level Chest is found in the Home Screen. The Level Chest displays the Level you must reach to open it. When you reach the Level, the chest unlocks and you can collect rewards!
How can I merge a certain item?
If you see an Order with an item you can't see in your Collections, tap [i] to find out which Container you can find the item in.
Some items are not available directly from Containers, and you need to create another item first.
For example, to access Drinks, you need to merge a Pitcher from the Tableware item chain.
Tip: Some rare item parts drop from other items. Some items can only be discovered by completing Side Jobs.
How do I sell items and why?
You may want to sell items on the Kitchen Board to clear up space or get some Coins.
To sell an item, tap to select it, and press the Sell button in the info panel.
If you accidentally sell an item, you can immediately tap Undo to cancel the sale.
Tip: Containers and Container Parts are hard to come by, and it rarely makes sense to sell them. Use your Storage instead to make space on the Kitchen Board, and always merge those parts to upgrade your Containers!
How do I use the Storage?
You can temporarily place items in the Storage at the bottom of the screen. Swipe left or right on the storage to view the items inside, ortap to open Storage. The Storage has a limited number of slots available. You can purchase more permanent slots with Coins.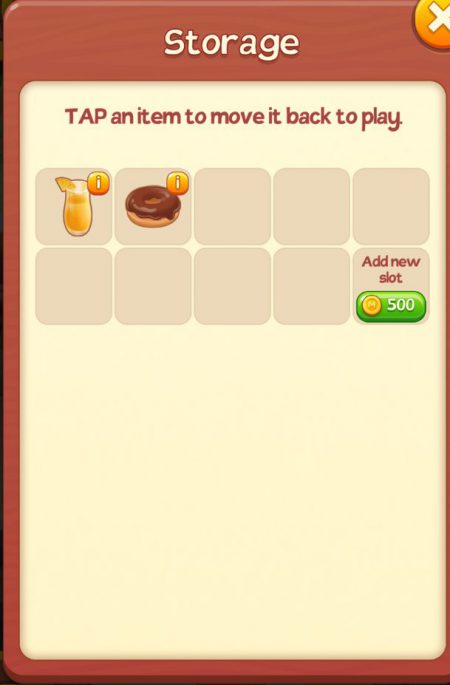 What is Experience & Reputation?
When you merge higher level items, Experience items appear. Merge them to collect more Experience into your Reputation meter.
When you collect enough experience to fill the meter, you can rank up your Reputation. Each Reputation rank gives you rewards.
How do I use my Coins?
Coins are very useful, and you can use them ina couple of different ways:
Inthe Shop, you can find Flash Sale items that can be purchased with Coins.
Inthe Shop, you can also find Packages of items that speed up merging higher level items.
Inthe Storage, you can buy more permanent item slots to stash valuable items in.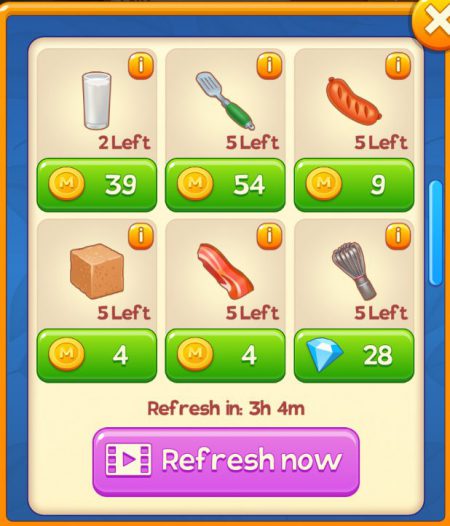 Side Jobs
Side Jobs are occasional Challenges that test your skills and logic. Side Jobs are played on a separate board, where you complete special Orders or unique tasks.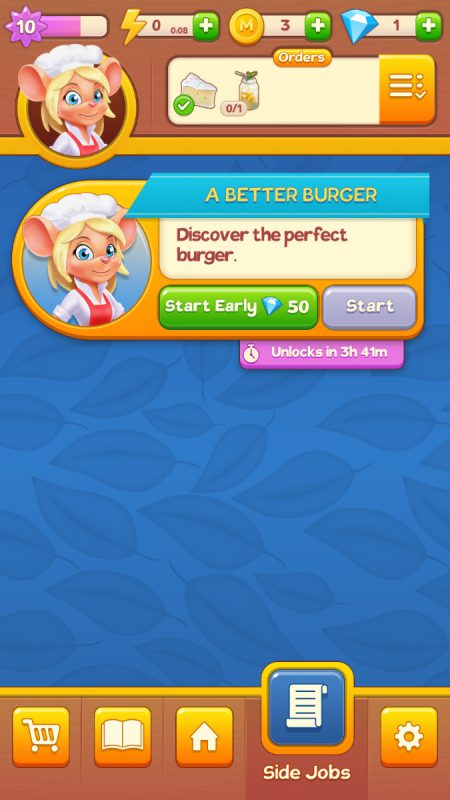 Side Jobs consume Energy, but finishing them successfully within the time limit gives you great
rewards and unique items which can't be discovered on the Kitchen Board.
Collections
You can find Collections in the Home Screen. Tap to open Collections.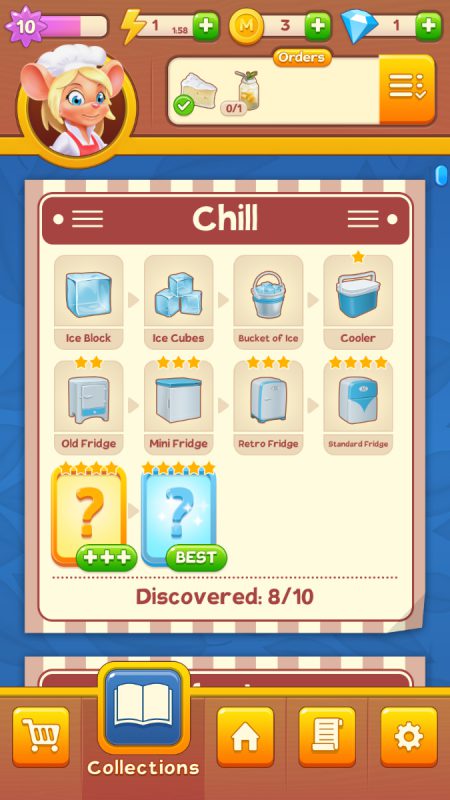 When you discover a new item in the game, it will be added to your Collections, and you can collect a reward.
Tip: Some items in Collections can only be discovered in Side Jobs.
Shop
In the Shop, you can find Daily Deals, Flash Sale, and Packages. You can also spin the Lucky Wheel to collect daily bonuses.
Daily Deals are freebies and high value deals you can buy or collect once every 24 hours.
Flash Sale offers a selection of useful items for completing orders. Buy items from Flash Sale to merge with items from your Containers.
Packages are disposable containers of different item types. They offer great value when you need to merge a large number of items.
Currencies
There are two currencies in the game, Coins and Gems. They can both be found and collected along
the way in the game. If you want more Coins or Gems, you can purchase both in the Shop.
Can I play on multiple devices?
At the moment, it is not possible to move your progress across devices. Do not delete your game, so
you won't lose any progress. We are working on saving progress and switching devices possible at a
future update!