Controls
There are two controls options available in HWIL. First and the default one is "Buttons". It enables separate buttons for turning, Nitro, and Drift.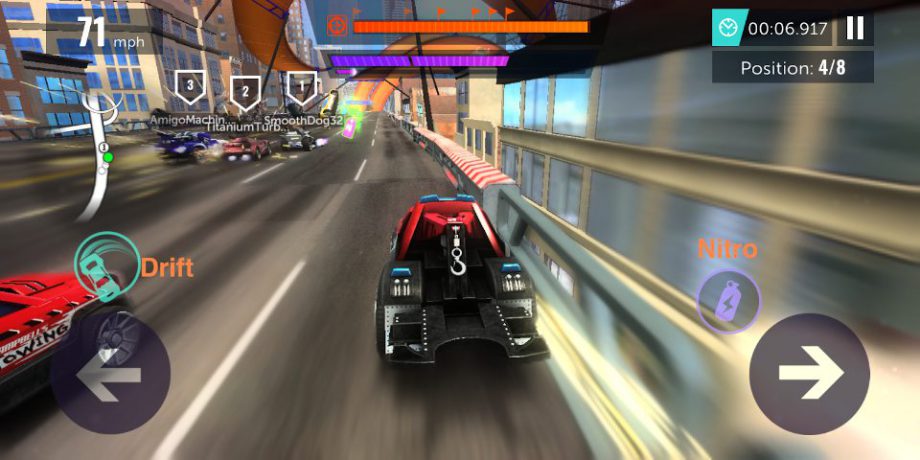 The second option is "Touch", it has a "cleaner" UI allowing you to see more of what's happening on the screen. For turning you can tap on the left and right parts of the screen, swipe down and hold anywhere on the screen to Drift and swipe up to activate Nitro.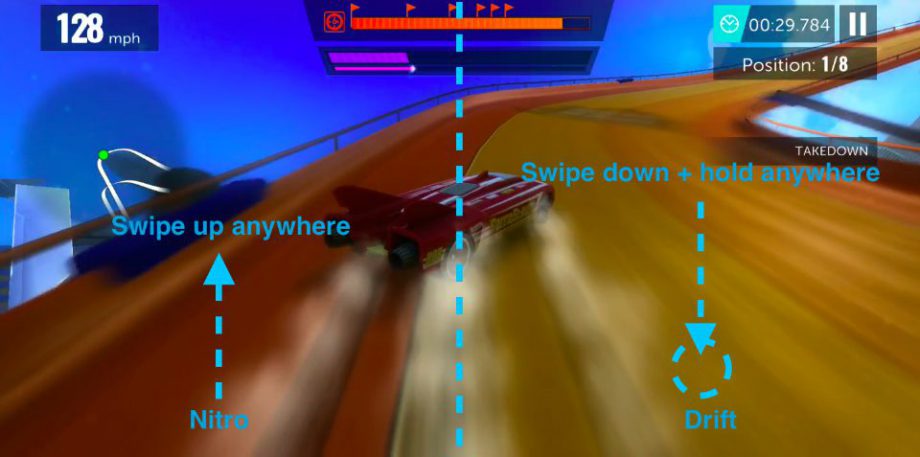 During the race, the objectives are displayed above the Nitro bar. Right side of the screen contains race stats like race time, position, distance or score.
Tłumaczenie niedostępne
Nitro boost
There are a few ways to get Nitro boost.
Collect Nitro shots on the track (blue and green icons)
Ram your rivals from behind while using Nitro
Take down drone cars (bots) by hitting them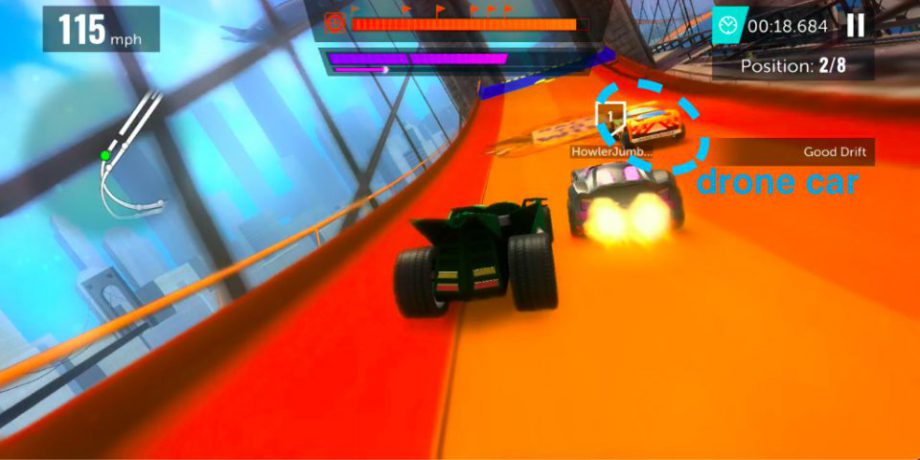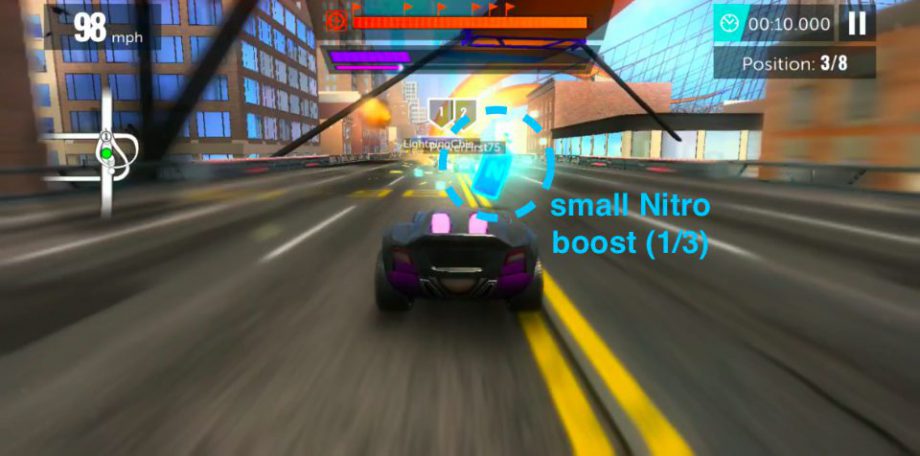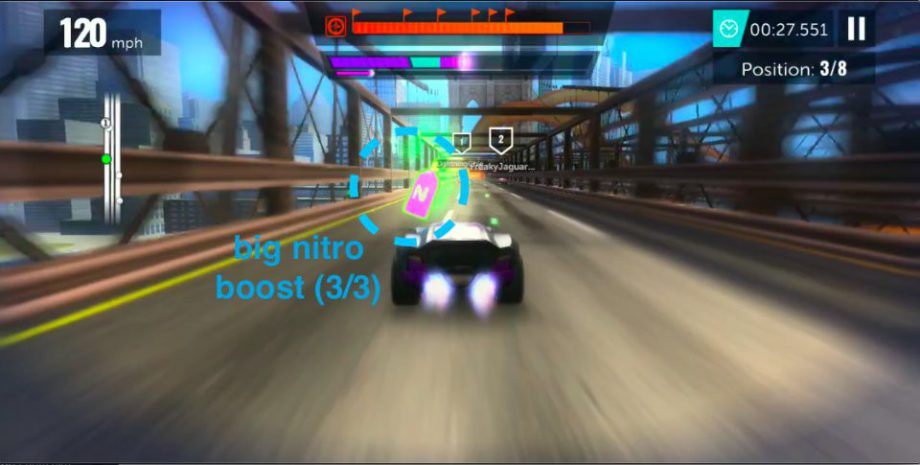 Drift boost
There is a slightly more difficult way to get a smaller boost than Nitro. Try drifting for a few seconds until your tires start shooting off orange sparkles. If you stop drifting right after that, you'll receive a small boost. If you continue drifting until you see blue sparkles and stop drifting then, your vehicle will get a greater boost for a short time depending on your vehicle class.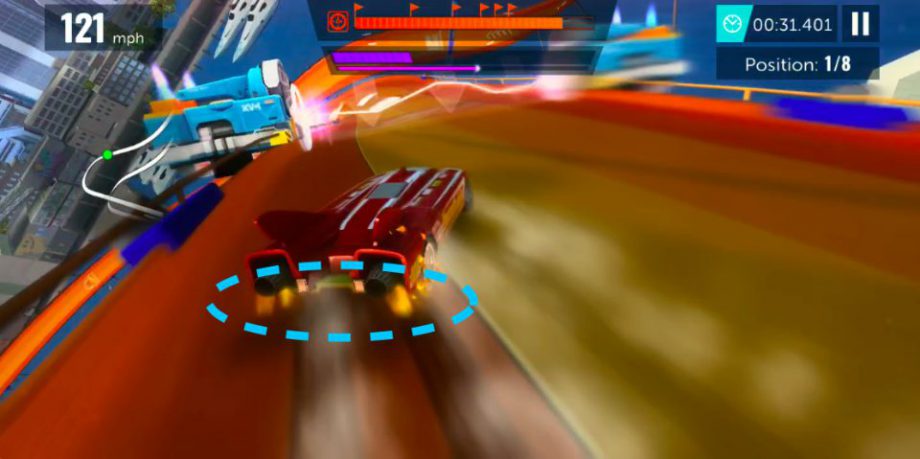 Vehicle classes
There are 5 vehicle classes in the game: Muscle, Experimental, Racing, Truck, and Sport. All of them have their own icons that are used on different screens throughout the game.
Each class performs better in some aspects. For example, Trucks do great on a rough road but have low top speed, Muscle are perfect for short tracks with elevations, but have limited Nitro time, Racing vehicles are good for short tracks in general, but would struggle on an off-road track, Sport are great for long tracks because of their high top speed. Experimental class is a little bit different, so please pay attention to their stats in general.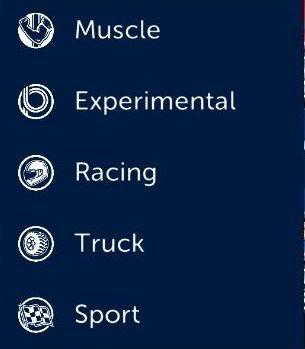 How to upgrade the vehicles
Vehicles have lvl and star ratings. Both of them improve vehicle stats. To upgrade vehicle lvl, you need resources: Gear, Blueprints, Tools, and Hot Gold (the higher the vehicle lvl – the more types and amount of resources you need). Each class requires its own resources plus you will need vehicle parts of a specific rarity for each range of levels.
Below are Tools and Tier Blueprints. There are 3 types of Tools and Blueprints for each vehicle Tier. Each type has its rarity and is required for a specific range of level upgrades.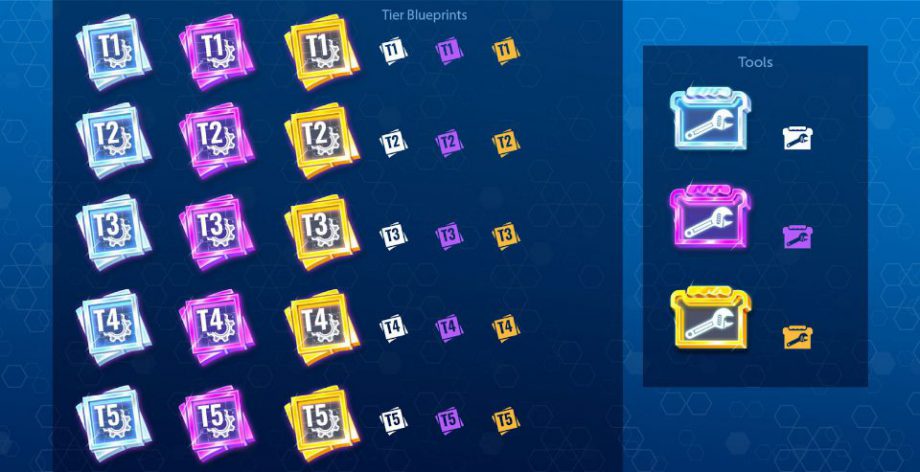 There are 5 types of Gear for each vehicle class (Basic, Special, Limited, Exclusive and Zamac). Like Tools and Blueprints, each Gear type is also used for a specific range of level upgrades, for example: Basic for levels 2-7 and Zamac for 18-20.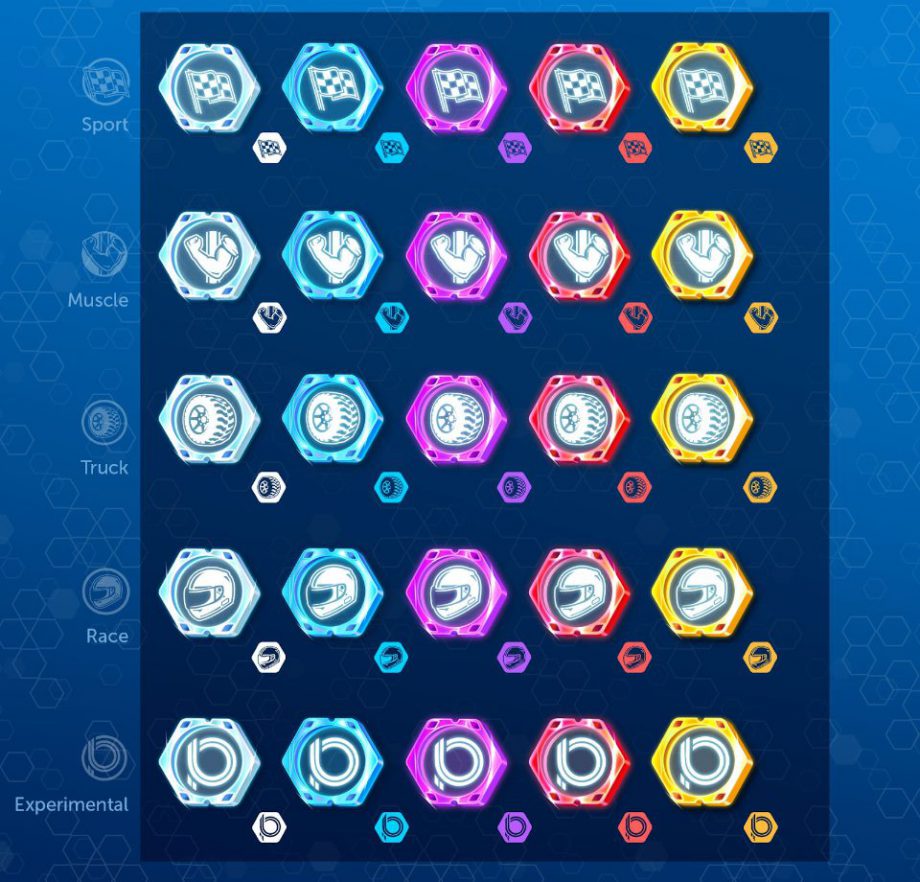 To upgrade Turbot from Level 12 to 13 on this screen, we need Limited Experimental Gear, Advanced T3 Blueprints, and Improved Tools. Or let's try upgrading Surf 'N Turf from level 2 to 3 – in this case we only need Basic Muscle Gear and Hot Gold.

To upgrade your vehicle's star rating, you only need vehicle parts. Once you have enough resources or vehicle parts for an upgrade, an up arrow will appear next to the vehicle on the Vehicles screen.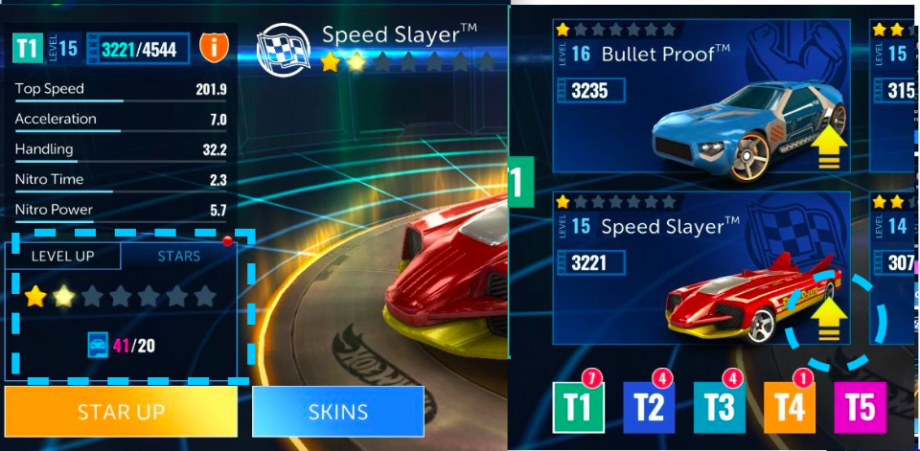 Where do I get resources and vehicle parts for upgrades?
You can get resources by playing the Campaign, opening the Leagues Boxes, completing the Challenges, and purchasing Supply Boxes from the Shop.
You can get vehicle parts in the Campaign. 10 parts for any vehicle can be redeemed for 10 wins in the Leagues (less wins if you are getting MVP) or for purchasing all Daily Deals in the shop. You can buy Vehicle Boxes in the shop or check the Daily Deals section where the vehicle parts might be available for purchase for Hot Gold or Chromers.
To get more Hot Gold, race in Campaign and Challenges, claim Daily Rewards, and open Leagues Boxes.
How do I unlock new cars?
There are a few ways you can get new cars in Hot Wheels Infinite Loop.
Complete the Campaign – in the process you'll get 5 starter vehicles (Speed Slayer, Chill Mill, Bullet Proof, Solar Reflex and Power Rocket).
Climb the Trophy Road. There are several vehicles rewarded for earning a specific number of Trophies, e.g. Baja Bone Shaker for 2250 Trophies.
Participate in Special Events, such as Seasons, that are held multiple times throughout the year – that's a perfect chance to win vehicles or unique event-themed skins (New Year, Halloween, Lunar New Year, etc.)
Check the Store. The simplest way to get new cars is in Vehicle Boxes, which you can unlock with Vehicle Tokens. Tips: 1) 10 Tokens purchase gives you 1 Token as a bonus. 2) The store often features special deals that include both the car and upgrade resources, so you'll be all set to beat the competition! 3) Open 10 boxes at once to receive a T3-T5 vehicle (it's not always a new one that you don't own yet).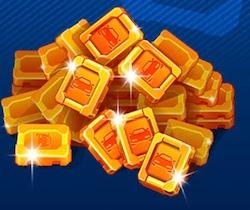 Vehicle tokens
How do I unlock skins?
There are 3 rarity types of skins for all vehicles in the game: Common, Rare and Epic. You can unlock most Epic skins with real currency or Chromers while Rare and Common skins can only be unlocked with Chromers. Store page shows skins for the vehicles you already own. Every day the skins are updated in the Shop, so make sure to check them from time to time.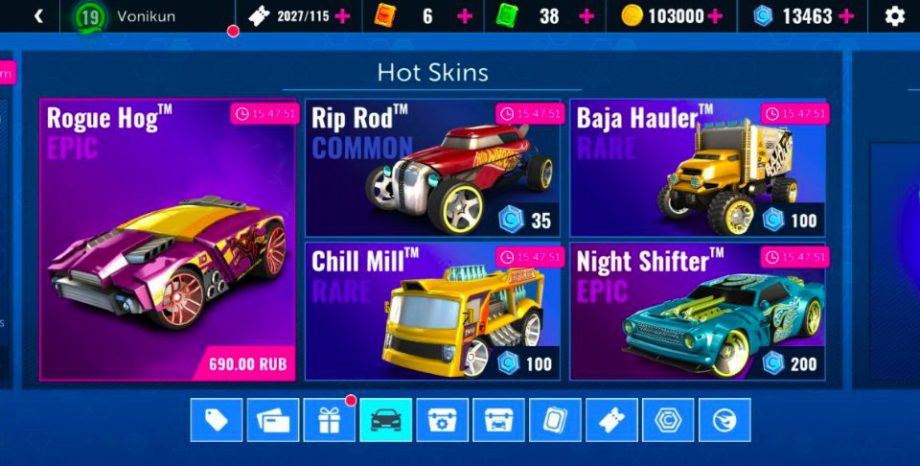 To try out a skin on your vehicle, you can tap on its preview in the Shop and open the screen where you can have a 360 degree look at the vehicle.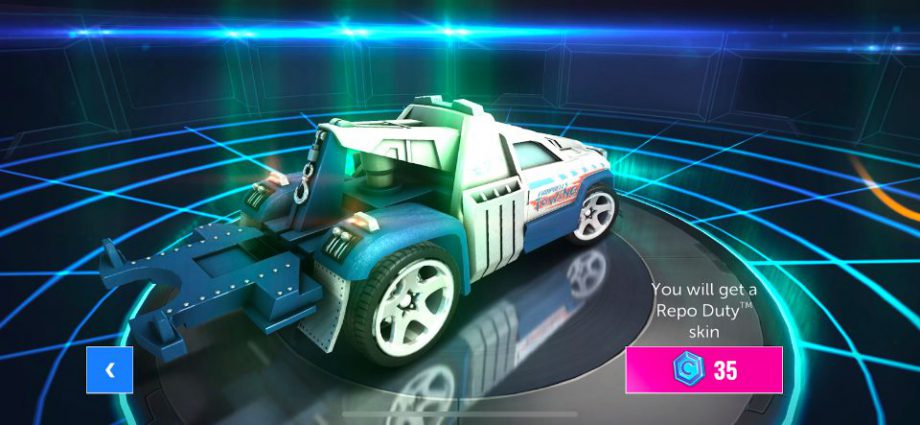 You can also unlock skins during the special events (Seasons) by completing their tasks or by purchasing direct offers like the one that was available on Valentine's Day.
All available skins are displayed in the Skins section of your Career. This page also usually features the info about the event where the skin was obtained.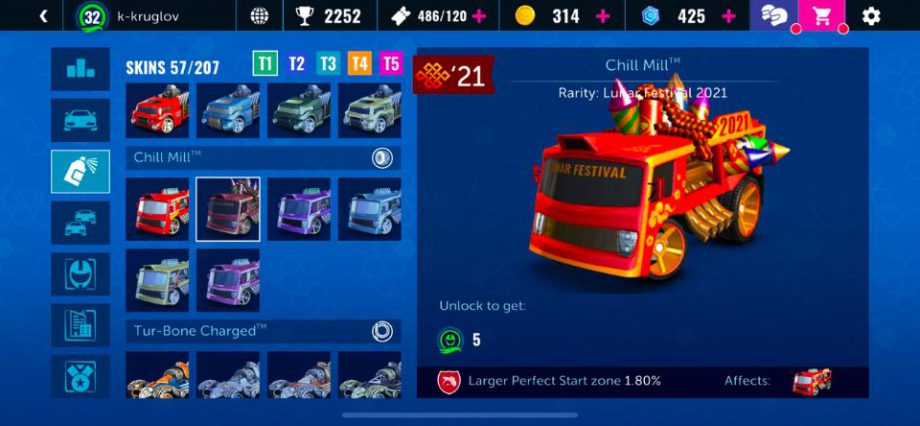 You can apply the skins that you own on the Vehicles page – select a vehicle and tap the Skins button to view the available options.
Campaign
It's a single-player mode with missions. There are 5 difficulty levels: Easy, Medium, Hard, Expert and Legend. each consisting of 5 chapters with missions, one mission per vehicle class. For completing the missions you'll receive rewards – Hot Gold, vehicle resources and vehicle parts for upgrades, Vehicle Tokens or Supply Tokens.
There are rewards for each mission and rewards for completing the whole chapter displayed on each chapter screen. For completing the main missions one more time, you'll also receive Hot Gold and Gear. Don't forget that the main races have hidden objects on the track and additional goals – you can also score bonuses for them. Completed main missions will be rewarded with stars. Collect enough and you'll unlock the next difficulty level (Easy → Medium → Hard → Expert → Legend).
Each race costs tickets. You can check how many tickets are left in the main menu at the top of the screen. Mission cost rises depending on its difficulty.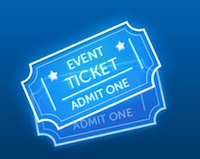 Challenges
This is also a single-player mode. There are Daily and Weekly Challenges.
Daily Challenges become available as soon as you upgrade any of your vehicles to level 4. Daily Challenge is a great place to get Blueprints for vehicle upgrades. Each vehicle class has a separate list of challenges and each challenge type has 7 difficulty levels.
Weekly Challenges become available when you upgrade any of your vehicles to level 7. They are active from Tuesday through Saturday. Each day of the week means there's a challenge for a specific car Tier (T). Sunday is the day when all Tiers are allowed to participate.
Challenge goals are listed on the right. The more goals you complete, the better rewards you'll receive. Your top 3 daily results sum up into your Weekly Score that can also get you cool prizes at the end of the week!
There are also 3 Featured Vehicles on the Challenge screen. If you pick them for the Challenge, you'll receive +30% rewards.
Leagues
It's a collection of rotating multiplayer modes. There are team and solo competitions. For winning a race you'll receive an MVP Looper Box. For the top 4 places or if your team wins, you also get a Looper Box that is slightly less valuable. The box contains vehicle resources and Hot Gold for vehicle upgrade.
Trophy Road
For winning in the Leagues, you get Trophies that add up to your Trophy Road rating. The rating is displayed at the top main menu. For reaching certain benchmarks on the Trophy Road, you'll receive rewards (for 100-125-150-200-300-350 Trophies, etc.)

Team Modes
Super-charged Classics (lap race for two teams; each player scores points at the finish line and their results sum up into the team score; the team with the highest score wins)
Gate Contenders (time-limited race, you race through the gates to earn points; the first team to score 350 points wins; the first player to pass through the gates scores max gate points for their team, the next players score less, but the gates widen so it gets easier for the rest to pass through).
Time Attackers (each team has limited time on the track that can be extended by passing through the gates; the first team to run out of time loses; the first player to pass through the gates earns maximum time for their team, the next players earn less, but the gates widen so it gets easier for the rest to pass through).
Solo Modes
Last Looper Standing (racers are kicked out of the race one by one until only one survivor is left. The last 4 survivors receive the rewards)
Solo Race (lap race; the top 4 racers receive the rewards)
Tłumaczenie niedostępne
Seasons and Race Pass
From time to time a new season starts in Hot Wheels Infinite Loop. Each season has a Race Pass with cool rewards and new Daily Missions.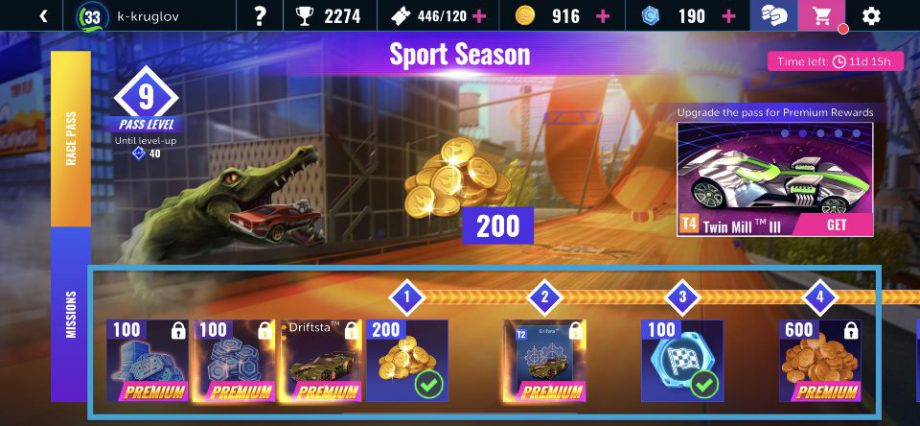 At the bottom of the Season Screen you can see the rewards and your progress bar divided into levels. The higher your Race Pass level, the more rewards you will unlock and they will be more valuable. You can level up by completing as many Daily Missions as possible. If you don't have the time to get the reward you really like, you can pay Chromers for one or a few levels.
Missions are updated daily, their list is available in the Missions tab of the Season Screen. For completing a task you will receive a specific amount of Season Exp. Each level equals 100 Season Exp. To collect the reward after reaching the required level, simply tap on it on the progress bar.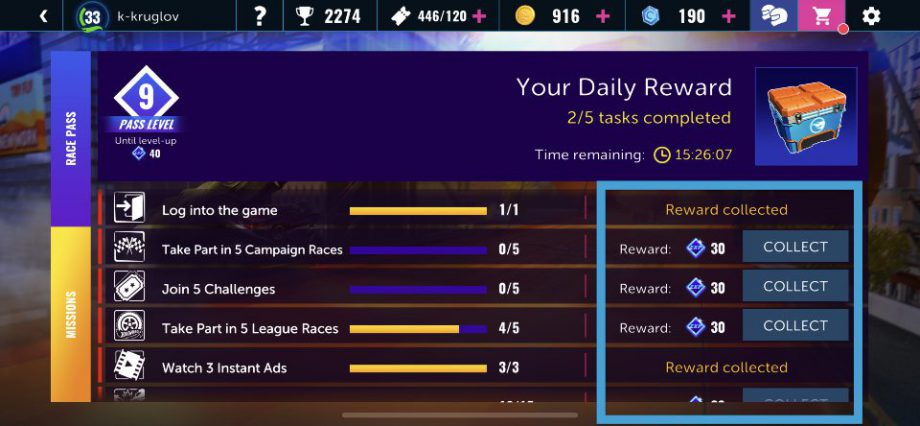 There are two reward types you can win during the Season. Some of them are free, and some require a Premium Race Pass (they are displayed with a lock icon on the progress bar). Race Premium (and Extra Premium) Pass guarantees you a special vehicle, even if you do not have the time to unlock all Race Pass Levels. But if you do, you'll get 2 vehicles!
There are two Race Pass categories – Premium and Extra Premium. Extra Premium includes all Premium Pass bonuses and instantly gives you +7 Race Pass Levels and a unique vehicle skins (depends on the season).
We hope that you'll enjoy the new Season and its prizes!
Where do I get tickets for Campaign and Challenges?
For playing Campaign and Challenge missions you need tickets. One ticket is restored every 5 minutes until their amount reaches 100. Don't forget to check your inbox twice a day – you'll find 25 tickets there waiting for you. If you don't want to wait, you can watch an ad and get 15 tickets right away. Ads refresh every 5 minutes.
How to add friends
Tap on the racing helmet icon in the top right corner of the menu. Here you can either search for other players by their player ID or share yours with your friends (e.g. via messenger or a social app of your choice).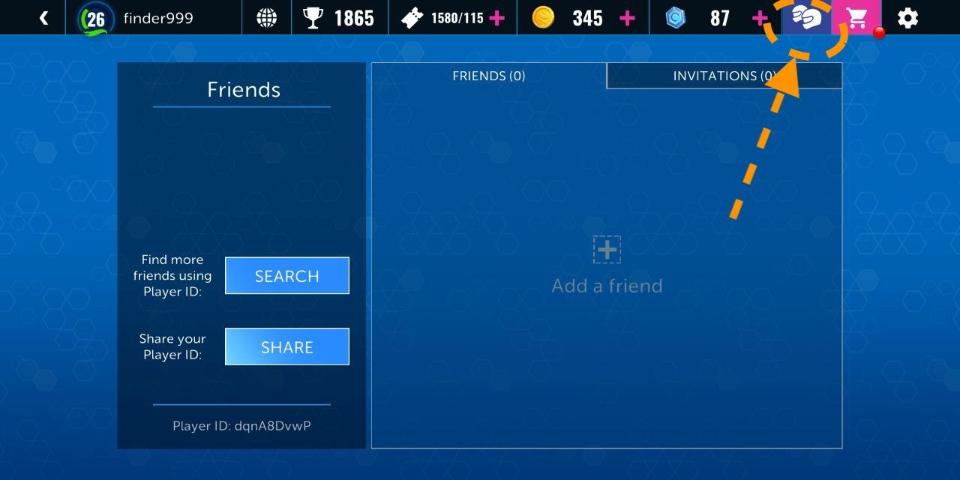 How to invite friends to race with me
You can invite friends to play together in team-based League modes such as Super-charged Classics, Gate Contenders, and Time Attackers. To do so, open the mode screen, tap on the + button on the right and choose a friend from the list. For that to work, you and your friend must both be online and have the latest update installed.