Gold is the premium currency of Call of War. It can be earned for free or purchased in the Call of War Shop. You can use Gold in various ways to improve your nation in the game.
Gold actions
Where to use it
Gold action
Stock market, or in missing resources popup
Buy a resource

Buy resources on the stock market for a fixed gold price without being reliant on resource offers from other nations.

Army interface when selecting a damaged army with lost hitpoints
Army reinforcement

Replenish the hitpoints of a damaged army. Heals all units within the damaged army by 10%. Prices vary based on amount and type of units.

Province interface when selecting a province with morale below 100%
Propaganda campaign

Increase the morale of a province by 10%. Provinces with higher morale produce resources and units faster and have a lower risk of an uprising.

Build menu or research menu with production, construction or research in progress
Speed-up

Speed up the production of a unit, the construction of a building or a research in progress. Speed-ups reduce the remaining time by up to 12h, immediately finishing shorter durations. The prices vary based on the type and duration.

Espionage menu with foreign province selected
Instant espionage actions

Trigger various espionage effects immediately without waiting for the next day change and without risk of failure. Includes revealing local armies or all armies of a country, providing country information, reducing province morale, sabotaging the economy and destroying buildings. Prices vary per type of action.

Research tree with highest research level of a unit selected, or inside player profile
Buy a blueprint

Buy a blueprint for a specific unit without having to collect random supply drops. Gathering all blueprints for a unit permanently unlocks this unit's highest research level in the research menu. The blueprints and unlocked research levels remain available in all future game rounds. Unlocked levels still have to be researched ingame.
Buying Gold
Gold can be purchased in the Call of War Shop. There are multiple gold packages available, granting different gold amounts for different price points. These price points and gold amounts can vary per country of origin and platform. In general payouts in the desktop version are higher due to platform fees in mobile stores.
Your current gold balance as well as the shop button can be found on the right side of the resource bar on top of the screen, both on desktop and mobile:

The shop on desktop looks like this: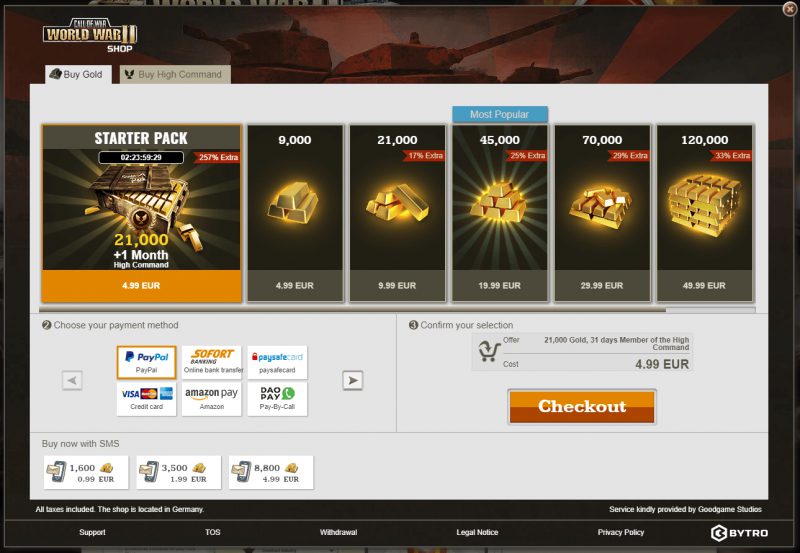 Simply select the gold package of your liking, your favorite payment method (only on desktop) and confirm the purchase. If you are playing in the app payment is done via the platform's app stores. Your gold will be added to your account right after your purchase. From time to time there are also special offers and discounts in the shop!
Earning Gold
Gold can be earned for certain accomplishments.
Unlocking Achievements – Achievements are awarded for winning maps, destroying enemy units and constructing buildings. Collect your gold reward in your player profile after unlocking an achievement. The amount of gold varies based on the difficulty of the task. Achievements are only unlocked by playing in regular ranked games.
Finish a game – Stay active in a regular ranked game round until the end to receive a gold reward. The amount of gold depends on the scenario type, the placing reached in the end ranking and on the coalition status of the player.
Watching video ads – Watch a video advertisement to immediately get a gold reward. There is only a limited amount of ads available per day. Each consecutive ad view per day yields a higher reward.
Official giveaways – From time to time players can earn gold by participating in giveaways or contests. Follow the official Call of War social media accounts to not miss any giveaways.