Farmdale is a popular farming simulation game developed by Game Garden for Android and iOS devices. In the game, players are tasked with managing their own farm, growing crops, raising animals, and building structures.
Players can also interact with other characters in the game, complete various quests and challenges, and trade goods with other players. The game features colorful graphics and a relaxing soundtrack, making it a fun and engaging experience for players of all ages.
If you have any specific questions about the game, feel free to ask and I'll do my best to assist you.
Where can I find pets?
You can get pets in multiple ways:
you get the first one at the very beginning of the game for free;
they are available during special offers (you can find the special offer icon on the right side of the game screen);
in special stores during events (look for the event store icon on the right side of the game screen when the event is on);
via random scrolls you can craft in the Manor (the house you start with at the very beginning).
How can I link the game to my Facebook account?
Go to the game and open the social menu (icon with two people on it, at the bottom right). There you will see the button to connect your game, if it says disconnect instead, that means your game is already connected.
Where can I find my Secret Words?
In order to find your Secret Words please open the game and tap the social menu (icon with two people on it, at the bottom right corner), then pick the "Secret Words" section. Your personal Secret Words are stated below.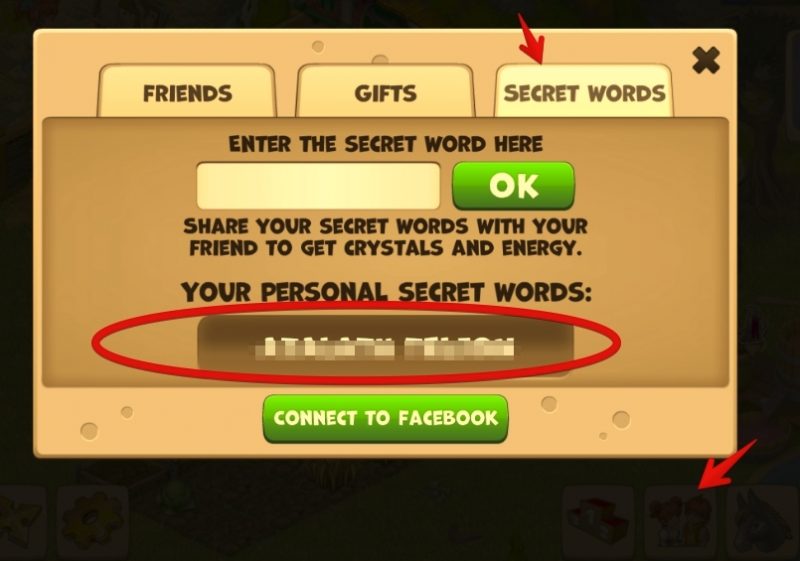 Where can I find Secret Words to get the bonuses?
Please visit our community:
We usually post the Secret Words with useful bonuses on holidays.
Please note that every Secret Word has an expiration term, it is stated in the post.
You can also use someone else's personal Secret Words, but you will get a bonus after that only if no one used the same Secret Words before.
In order to find the Secret Words open the game and tap the social menu (icon with two people on it at the bottom right corner), then pick the "Secret Words" section. You can paste the Secret Words in the empty field above.
How can I earn more crystals?
You can get more crystals in multiple ways:
by completing certain quests;
by completing quests provided by the Crystal of Tasks. The Crystal of Tasks is available during special offers and tournaments;
by purchasing them in the bank. You can open the bank menu if you press + button near your crystal tab;
by using special Secret Words we share in our posts. We usually post them on holidays.
How can I add friends?
To add friends in the game, you need to connect your game to your Facebook account first. Then you just need to add other players to friend list on Facebook.
How do I move, store or delete objects in the game?
To move an object (house, decoration etc) you need to tap it and hold it down until a special bar fills in. Doing that will open special menu that lets you move, store or delete an object. Keep in mind that not all objects can be moved or deleted. Storing devices back in your storage may also undo any upgrades they had.
How can I rename a pet?
To rename the pet, just open its menu by tapping the pet itself, or its icon in the Pet Corral. Now just tap it's generic name at the top of the menu.
I obtained a pet, but it's nowhere to be found
Please make sure you have built a Pet Corral. If you have one, make sure you have free space in it. You gain one free space per upgrade until maximum, at which point you can purchase extra during special offers.
Where did the pet's costume go?
Costumes and accessories for pets are temporary and run out over time.
Does the game require internet connection, or I can play offline?
You can play this game both online and offline, though the "Contact Support" button won't be active offline.
Also we recommend to connect to internet from time to time in order to update the game, participate in the tournaments, get new seasonal adventures, see special offers and save your progress.
How do I participate in a tournament?
Tournaments allow you to charge the items and receive various rewards based on how many points you earn and how many leagues you advance through.
Tournaments are available:
to all players level 15 and up;
when they are active (they usually come hand in hand with the events and reset every week, but there can be breaks between them);
if the player is connected to the internet;
if the game is updated to the latest version.
To participate in a tournament you need to tap the podium icon in the lower right part of the screen, choose a name, and start charging items.
After the items in the list are charged you need to wait until list refreshes, or alternatively use crystals to refresh it immediately.
If you are sure that you meet all the requirements above, but the tournament icon still doesn't appear in your game please submit a request and tell us about that.
How can I visit other farms?
Unfortunately it is not possible to visit other farms at the moment.
How can I delete a friend?
In order to delete friends in game you need to unfriend them in Facebook.
How do I gain experience and level up in the game?
You can level up if you get enough experience points. Upon leveling up you unlock new items in the shop, territories, quests and even get rewards.
There are many ways to get experience points in the game:
complete different quests;
gather crops, water, fruit etc or cut the trees;
clean your territories from the weeds;
upgrade the buildings;
just about any activity in the game may give you experience points!
You can find your experience bar in the upper left corner of the screen. It displays your level, as well as percentage of experience you gathered towards the next one. You can tap this bar, if you want to know more detailed information about the experience you gathered already, or how much of it you need towards the next level.
How do I unlock additional territories?
As you play through the game new territories will become available for the in-game purchase. You need to meet one or more of the following requirements in order to open each territory:
gain certain game level;
complete certain questchain;
save certain amount of coins or crystals.
So if a territory is not available yet, don't panic, you just need to keep playing for now.
If territory is available for purchase a special icon with wooden arrows appears over it. Tapping it will tell you the requirements. Upon fulfilling the requirements territory is yours to build on as you please.
What are the events and quests?
Quests need to be completed to find out what happens further down the storyline, get experience points, crystals and other resources, as well as open other interesting possibilities of the game.
You can find available quests on the left side of the screen, in a form of square icons with different objects and characters depicted on them.
There are different kinds of quests:
1) Story quests.
These quests advance game's storyline, unlocking new characters and important aspects of the game.
2) Repeating quests.
The quests with crafting items and selling farming goods appear multiple times, letting you gather more experience and coins.
3) Special quests.
These quests are often distributed through special offers. They contain unique premium rewards, that are given upon completion.
4) Event quests.
These quests tell you the story of the currently running event and often supply you with the things you need to complete the event. Event quests can be distinguished from every other type of quests as they have a purple background.
Events are large scale activities, lasting usually one or two weeks. While they are on you can discover something new about world of Farmdale, as well as obtain unique and interesting rewards. Participating in the event involves a few simple steps:
complete event quests that will teach you how each particular event works;
start gathering special event currency through completing special event activities that may vary from event to event;
exchange currency for different rewards in the event shop. Event shop can be accessed by pressing round icon on the right side of the screen.
Be sure to exchange all the currency before the event is over, after the event is over the shop will close.
How can I choose my nickname in the game?
You have to choose a nickname when you take part in the tournament for the first time (as soon as you reach level 20). You will see the chosen nickname in the leaderboards, but you won't be able to create a new name for each new tournament, so choose wisely 🙂
Also you are assigned with a special ID after you install the game, which is your games' Secret Words. You can find your Secret Words if you open the social menu (icon with two people on it, at the bottom right corner of the game screen)
What is a Regular Bonus and how to get one?
Regular Bonus is a bonus that arrives after certain time intervals. In Farmdale, there are two kinds of bonus:
two balloons, one small and one big. Big one arrives at your farm every 24 hours, while small only takes 8 hours to get to you. Both give you crystals and energy. Additionally you can find pet costumes in the small balloon and Dale Seals, Royal Seals, pet food and scroll canvas in the big balloon.
Leprechaun that visits your farm every 24 hours to give you some coins.
Where do I find Seals?
The seals help you expand the territory of your farm.
Dale Seals:
Dale seals are given as rewards from the balloons that regularly fly to your farm.
Royal Seals:
may be bought with crystals,
sometimes may be obtained from the Ancient Statue, if you give it the dale seals,
rarely may be given as rewards for some other activities.
Northern seals:
Northern Seals may be obtained for completing tasks in the Tavern located on your farm. But first you need to renovate the Tavern by completing quests and upgrading in game.
How can I get daily quests?
You can get more daily quests if you:
buy the Crystal of Tasks during special offer, or in the event-shop for tokens (the crystal gives new quest every day);
finish all the quests in the Tavern after 60th level (after that the tavern will give you quests every 2 days);
get the statue of dwarf from the Dwaren Chest you dig out in the mine (it will give you quests every 3-4 days).
Where can I find Bryozoa?
Bryozoa can be planted in the underwater farm, in special underwater garden beds you can buy in the underwater store.
Where can I find corals?
Corals grow underwater, but they are very rare. To make sure they appear regularly, you need to use Horn of Sea Plenty, available in the underwater store.
Where do I find crops?
Some crops only become available for planting at gardenbeds at certain levels:
Wheat – level 1
Corn – level 3
Carrot – level 5
Onion – level 8
Tomato – level 11
Beans – level 13
Potato – level 15
Pumpkin – level 16
Cabbage – level 17
Chili – level 20
Lettuce – level 23
Strawberry – level 26
Kelp – level 27
Porphyra – level 28
Bryozoa – level 29
Garlic – level 30
Cucumber – level 36
Sunflower – level 42
Broccoli – level 54
Watermelon – level 60
Turnip – level 66
Spinach – level 72
Eggplant – level 78
Peanut – level 82
Sorghum – level 88
Kumquat – level 95
Soy – level 99
Rice – level 104
Pineapple – level 108
Sweet Pepper – level 114
Zucchini – level 120
Physalis – level 125
Portobello Mushroom – level 129
Chard – level 136
Blackberry – level 140
Basil – level 143
Cauliflower – level 147
Grapes – level 151
How can I open an underwater farm?
Access to underwater farm is gained by completing numerous story quests. When you reach level 30, a quest called "Fishing again" should appear. Following it and quests that come after it will open access to the underwater farm.
I'm having difficulties completing some quests
Some quests require more effort than the other, but you can also check out our special offers and tournaments, some tasks and quests there can be easier.
Where do I find farm animals?
Some trees only become available for purchase at the store at certain levels:
Chicken – level 2
Cow – level 2
Piggy – level 12
Goat – level 19
Pony – level 26
Pearl Shell – level 30
Octopus – level 30
Sheep – level 34
Bunny – level 34
Ducky – level 40
Bear – level 47
Hedgehog – level 55
Cat – level 64
Moose – level 65
Giraffe – level 70
Peacock – level 75
Alpaca – level 80
Cute Panda – level 85
Arctic Fox- level 87
Elephant- level 90
Manis – level 100
Pink Flamingo – level 101
Turkey – level 107
Kangaroo – level 110
Camel – level 117
Turtle – level 123
Rhinoceros – level 126
Narwhal – level 130
Dolphin – level 133
Seal – level 145
Platypus – level 150
Lemur – level 152
Precious Lobster – level 160
Where do I find trees?
Some trees only become available for purchase at the store at certain levels:
Apple tree – level 11
Pear Tree – level 15
Mulberry Tree – level 17
Cherry Tree – level 24
Olive tree – level 28
Cocoa Tree – level 33
Orange Tree – level 39
Lemon tree – level 35
Peach Tree – level 51
Almond – level 57
Apricot tree – level 63
Plum tree – level 69
Wild Cherry – level 72
Pomegranate – level 75
Avocado – level 79
Walnut – level 82
Fig Tree – level 86
Quince – level 86
Grapefruit Tree – level 90
Carambola – level 93
Lychee – level 97
Mango – level 102
Passion Fruit – level 106
Longan – level 112
Coconut – level 118
Pitahaya – level 123
Guava – level 131
Breadfruit – level 138
Kiwi – level 141
Banana – level 149
Papaya – level 153