What are Lives?
Lives are required to begin playing a level. You can have a maximum of five lives at a time and each life is automatically renewed after 30 minutes. If you successfully beat a level, you will earn the life back to your total. Lives can be lost if you do not successfully finish a level, restart the leve, or close your app before completion. However, you can obtain more before the cooldown timer finishes by completing Daily Missions, watching video ads, or purchasing them with Rubies.
What are Rubies?
Rubies are a currency used to draw costumes from Lucky Boxes, continue playing levels if you run out of moves, and purchase power-ups. Rubies are obtained by purchasing them from the shop, earning event rewards, or watching video ads.
What are Coins?
Coins are used to gain new decoration designs, draw from the normal Lucky Box, and purchase power-ups. Coins can be earned by beating levels, watching video ads, and earning event rewards.
What are Stars?
Stars are resources used during chapter quests to complete tasks and fix the towns. Stars can be earned by successfully completing levels.
What are Power-Ups?
Tapping on groups of blocks can create useful items called power-ups that can help you clear levels faster! Power-ups are obtained by purchasing them with Coins or Rubies, watching video ads, and earning event rewards.
Rocket Pin: Match a 2 x 2 block in a square formation to create a Rocket Pin! Launch the Rocket Pin to clear blocks in a + formation and one Wooden Crate!
Line Pin: Match four blocks in a row to create a Line Pin! Use the Line Pin to clear an entire column of blocks.
Kaboom: Match blocks in a T-shape to make a Kaboom! Each Kaboom removes surrounding blocks on all sides.
Rainbow: Match 5 blocks in a line to create a Rainbow! You can remove blocks of the same color when the item is switched with the selected block.
What are Magical Balloons?
Magical Balloons are allies that can help you complete levels. Playing the game with a Magical Balloon allows you to use the Magical Balloon's extra skill. This feature is available after reaching level 142.

How to get Magical Balloons:
Removing common blocks as you play the game will charge the Magical Balloon Ticket bar.
Once the bar is fully charged, you will get a Magical Balloon Ticket.
Magical Balloon Tickets can be used to purchase or level up Magical Balloons.
Each level increase will enhance the effects of the skill and also chance the appearance of the Magical Balloon.
How to use Magical Balloon skills:
Equip a Magical Balloon in the pre-game window.
Each Magical Balloon has a daily limit on the skill use.
Once the cooldown is over, the number of uses will be fully recovered.
Once a game is started, the Magical Balloon's skill button will appear on the bottom right portion of the screen.
Tap on the Magical Balloon's skill button to activate the skill.
The Magical Balloon's skill cannot be used in certain levels (e.g., tutorial levels and some event levels).
What are Costumes?
Costumes are fun outfits for your avatar that each have a unique theme based on your favorite characters! Each Costume also has a unique ability that can help you beat levels. Costumes can be obtained by opening Lucky Boxes, purchasing from the Lucky Point shop, or buying bundles in the shop.
To view and put on your owned costumes, tap on the Closet button with the t-shirt icon on the bottom right corner of the main screen. You can add up to nine costumes in your Favorites to easily access them.
Currently, Costumes are available with the following themes and more will be available soon!
Mickey Mouse
Winnie the Pooh
Aladdin
Toy Story 4
Frozen
Frozen II
How can I edit my avatar?
After inital creation, you can change your avatar's appearance at anytime! To do this, tap the Closet button with the t-shirt icon on the lower right corner.
Closet section: This is where you can view all of your owned costumes! To wear a costume, tap one of the Disney themes to view costumes in each category. Then, tap on your preferred costume and finalize your confirmation by tapping the green Go button.
Magical Balloon: Here is where you can equip and unequip Magical Balloons.
Avatar section: This is where you can edit your avatar's face type, skin tone, hairstyle, normal clothing, and gender. Note: you may need to unequip your current costume to see the default hairstyles and clothing.
How do I change my avatar's name?
After creation, you can change your avatar's name at anytime! To change the name of your avatar:
Tap the gear button on the upper right corner to open the game's Settings menu.
Then, tap the pencil icon next to Avatar Name.
From there, you can type in a new name for your avatar (max 16 characters).
What are Costume Abilities?
Wearing costumes will allow you to use unique abilities that will help you clear levels faster! For example, a costume will allow you to start a level with a power-up or clear a certain amount of blocks at once.
To view a costume's ability:
Before playing a level: Tap on your avatar on the bottom left corner. Then tap Fitting Room, where you'll see the list of costumes you own. Select a costume to view the ability's description and confirm by tapping the green On button.
When playing chapters: Tap the Closet button with the t-shirt icon on the bottom right corner to access all of your owned costumes.
Viewing Lucky Box Costumes: Tap the blue question mark icon above a Costume to view possible abilities if you draw the Costume from a Lucky Box.
How to activate a costume's ability:
To activate an ability, you will need to fill the ability button's gauge when playing levels by matching blocks, creating combos, and using Power-ups.
Tap on the guage to see the percentage you have left to fill.
Once you reach 100%, tap on the ability button to activate it!
What are the Lucky Boxes?
Available after level 6, you can draw costumes at random from Lucky Boxes so your avatar can have a fun themed costume to wear and use a unique ability to beat levels! Tap on the Lucky Box button with the gift bag icon on the bottom right to see all current boxes that are available.
Lucky Box and Golden Lucky Box: These boxes can be opened with Lucky Tickets, which are earned by beating levels with three Coins, completing chapter tasks, or purchasing packages. They can also be opened with Rubies, available by earning event rewards, watching video ads, and purchasing from the shop.
Event Lucky Box: This box can be opened with Event Points, which can be earned by participating in limited time events.
Lucky Point Shop: This is where you can purchase items using Lucky Points, which are earned each time you draw from the Golden Lucky Box.
How do I decorate my towns?
During each chapter, you can decorate various buildings and areas in each unique town. When decorating, you will be prompted to choose between one of three designs. Be careful with your first choice of design–it costs Coins to change to a new design!
After making a decision, you can go back to change a design. To edit a decoration, tap and hold the area until a wrench icon appears above. Once it fully turns yellow, you will see the three designs. Choose a new design by spending 100 Coins and then tap the green check mark button to confirm your final choice.
How do I travel between towns?
Once you complete a chapter, you will be able to travel back and forth between the different towns! To do this:
Tap the blue paper icon on the bottom right corner of the main screen.
Tap the Minimap button with the pin icon.
Tap on which area you would like to visit and then the green Confirm button. You can also see the percentage progress of the current town you are helping out. Complete more chapters to unlock all available areas!
What is the Inbox?
The Inbox is a messaging system where rewards and gifts will be stored. The Inbox is available by tapping the red mailbox icon on the bottom left corner.
What is the Notice Board?
The Notice Board is where you can see all current events, Lucky Boxes, sales, and other notifications about upcoming fun content! The Notice Board will be available when you first open the app or by tapping the loudspeaker button on the bottom right side of the main screen.
What are Missions and Pop Cards?
Complete Missions to earn Pop Cards and have a chance to earn the grand prizes on weekends! Players will receive a list of achievements to accomplish during weekdays called Missions that will reset each week. Examples include removing a certain amount of blocks, using Lives, or reaching a certain score when playing levels. Tap on the card try button on the upper right corner of the main screen to begin!
Missions are counted even if you don't clear the level. Please note that only certain levels count for progress (e.g., main levels, Crown Event levels, and Coin Collection levels).
For each Mission you complete, you will earn a Pop Card! Similar to the lottery, each Pop Card has a unique combination of four symbols. A winning Pop Card will be drawn over the weekend. If the image of your collected Pop Card matches the drawn image, you'll win the prize!
Important: If you don't check to see if you've won on the day of the drawing, all your collected Pop Cards will be discarded.
What is Yo-Yo's Shop?
Yo-Yo is a traveling trader who roams from one town to the next! Look out for Yo-Yo and tap on the gift box icon above to view special offers not availble in the main shop!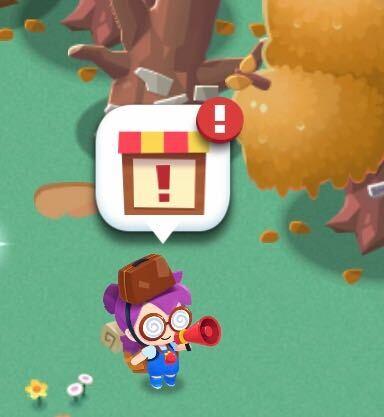 What can I view in the Settings menu?
The Settings menu can be accessed by tapping the blue paper icon on the bottom right corner. Here you can:
Check current game information, such as your Support ID, app version, and avatar name.
Connect your game to a Facebook or Apple ID account to back up your data.
Check currency balances for your Coins and Rubies.
Change the language.
Turn on/off the background music and sound effects.
Turn on/off push notifications.
Contact Customer Support, read the FAQ, and view the Privacy Policy.
Delete account if you would like to start over from the beginning.
Why can't I add POP Mates even though my list is not full?
When adding Pop Mates as friends, you may see a message saying "Cannot add as POP Mate. Your friend's list is full", even though your personal list has less than 20 POP Mates. If you see this message, this means that the person you sent the request to has a full list of POP Mates and cannot add you to their list. In the meantime, please send and accept requets from other POP Mates.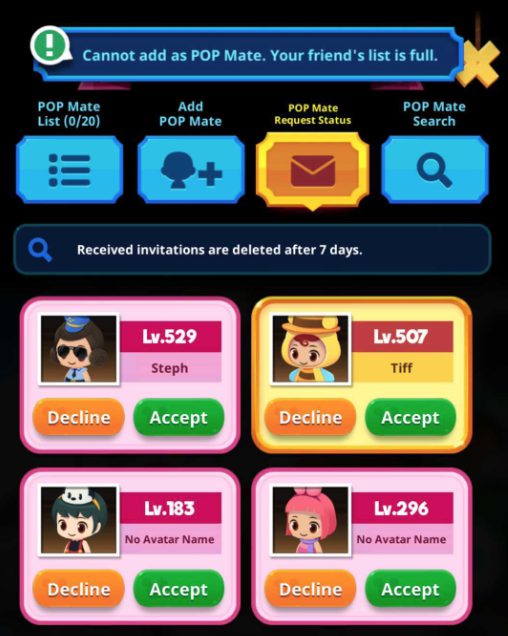 How do I play previous levels?
Playing previous levels again is available if the three coin icon has not been reached. To play, tap on the menu button with the three horizontal bars on the bottom right side of the screen. Then tap on the "Collect Coins" buttons. From there, you can choose a level to replay for a chance to earn the three coin rewards, such as coins and a Golden Ticket.