Why do I need gas?
Your car isn't going anywhere without some Gas in the tank. You can see your Gas meter at the top of the screen, beside the gas pump icon.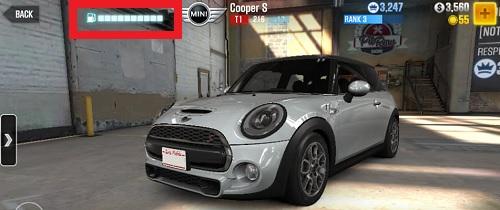 Every time you race you will consume at least one pip of Gas. It'll refill slowly over time, but if you need more in a hurry, tap the Gas meter at the top of the screen and select one of the options to fill your tank.
What are Evo Points?
Evo points are shown beside your car's PP. The (+/-) numbers show how much extra performance you've squeezed out of your car by using fusion parts, or by tuning your car.

What is Arcade Mode and where can I find the Arcade machine?
Arcade is a retro mini-game, called Turbo Super Drift. It is located under the staircase at the corner of your garage.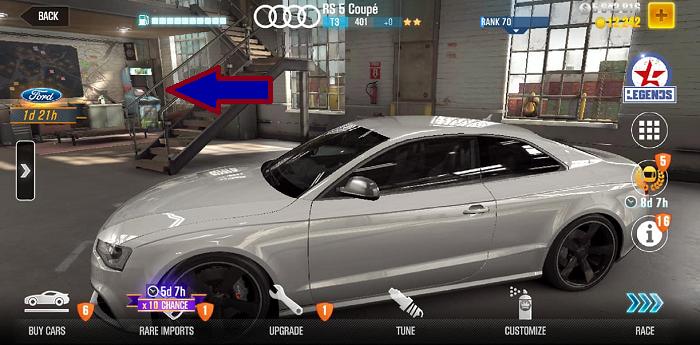 This secret feature is accessible by tapping the arcade cabinet.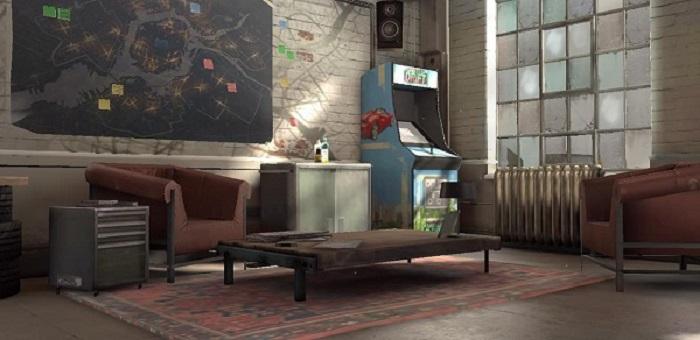 Note: The Arcade can only be accessed once per day. Once you exit the mini-game, it can't be accessed until the next day.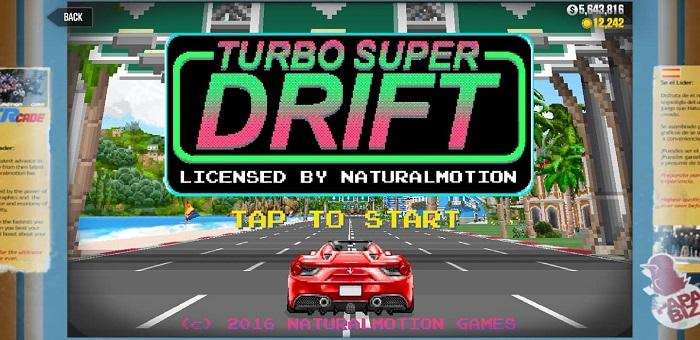 How does the Player Inbox work?
We have noticed a few questions around the Players' Inbox feature and wanted to give you an overview of how to use it. First up, we've introduced a new way to reward players by awarding crew based events, mass gifts, and Leaderboard rewards on the map through the Player Inbox. Rewards for other events such as Prize Cups, Trials, etc. will not be sent to the Players' Inbox. These rewards will still be awarded instantly after each milestone race!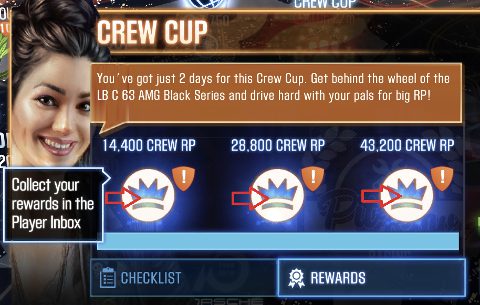 Anytime a reward is sent to your inbox, a badge will be present on the top left of the garage screen (the inbox/daily login logo). You'll have 7 days to collect the inbox rewards excluding RP and Wildcard tokens which can only be claimed during Crew Cup events.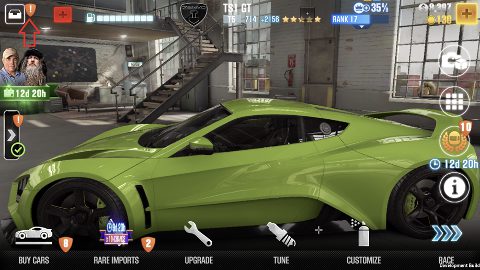 There are 2 options to claim rewards in the Player Inbox:
1: Tapping on each reward directly e.g. Crew Cup reward with 30 silver keys (see below). In this situation, you will get 30 silver keys and the 2nd reward will still be present in the Player Inbox
2: Tapping the Claim All button. By doing this you will receive all rewards instantly.
It's worth noting that car rewards cannot be claimed via the claim all button, these are still claimed by tapping on each car separately.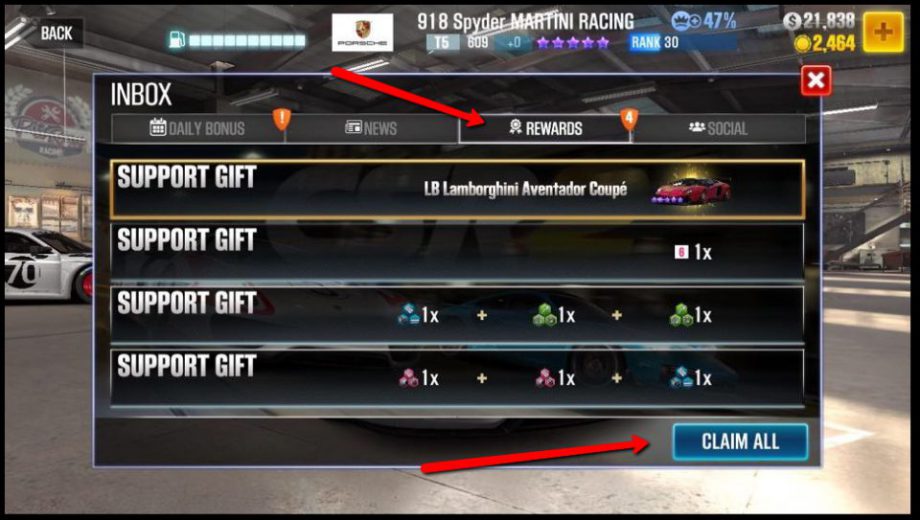 As always if you have any suggestions on how we could improve this feature please do let us know on Facebook, Twitter, Instagram and YouTube
What are Gold and Cash?
At the top right of the screen you can see how much Gold and Cash you currently have; if you need a little more, then you can access our store by hitting the Plus Symbol. Here you can spend real money on some extra Cash or Gold.
You can also get more Gold by:
Leveling up and progressing through the game
Beating certain opponents
What are Keys and how can I get more?
Keys are a special currency that unlock cars, upgrade parts and other items in the Rare Imports. There are three different types of Key – bronze, silver, and gold – and each type is used to unlock a different type of prize.
Keys can be won in some events, in multiplayer, or purchased from the store.
What are Tiers?
Tiers refer to two things. When relating to your progress through the game, each Crew forms one Tier – Tier 1 is made up of the Nu Fangz, with other crews making up tiers 2 – 5.
When talking about cars, the Tier refers to the limitations placed on each car. At the top center of the screen you'll see the car's Tier – eg T4. This is the Tier of your current car. As you browse the showroom you'll notice the Tier changes depending on the car you have selected.
As a rule, you can only use cars in the Single Player tier they're rated for or higher – for example, a T4 car can only be used in Single Player tiers 4 and 5 – although there are some exceptions to this, like Regulation Races.
What are Daily Battles?
Daily Battles let you try out new cars and win cash prizes. You'll often get to race in top-end cars, so it's a good opportunity to try them out – and don't forget there's the chance to win some cash too.
Daily Battles are time limited events, so after you complete one you'll usually have to wait a few hours before the next one opens up.
What is PP?
PP is a measure of your car's performance. It takes into account the base performance of your car, plus the impact of any stage 1 to 6 upgrades you have fitted.
Remember though, that tuning your car and adding Fusion Parts to your upgrades will increase your car's Evo points, not its PP.
How can I stop adverts from appearing?
You can remove all ads in the game by buying anything from the store. Access the store by tapping the gold plus sign at the top right of the screen.
How do I earn Respect Points?
You earn Respect Points – or RP – by progressing through the game, taking down crews and beating other players. You get the most Respect Points by competing in Live Races.