The Captain's Challenge is a feature that allows you to compete against friends to see who can find hidden objects the fastest. The competition runs for a week, where at the end of the week, your highscore will reset back to 0 and you will once again be able to challenge your friends. The faster you are, the higher your score and the bigger your reward!
To access and take part in the Captain's Challenge, you will need to complete chapter 3 to unlock the Steamboat located at the bottom right of your island.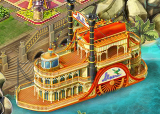 To take part in the Captain's Challenge, you require tickets. Each scene requires 1 ticket.

You can receive tickets from your friends, but there is a limit as to how many you are able to accept. If you have 10 or more tickets in your balance at the time of the request, you will not be able to accept any additional tickets from your friends.
There are a few exceptions to having more than 10 tickets in the Captain's Challenge. The following tickets will be added to your ticket balance regardless of the 10 limit rule:
1) Tickets rewarded from chests in Hidden Scenes
2) Tickets won from special features such as Captain's Challenge or Daily Puzzle
3) Tickets awarded from Pearl's Peril Facebook page
4) Tickets purchased in-game
Please know that the maximum amount of tickets that you can have from all sources at any given time is 1,000.