There are times when you no longer want an item on your island, so you want to sell it.
For Mobile:
Tap on the item you want to sell. A pop-up will appear on top of the item with two options: sell or store. Tap the 'bag of coins' icon in order to sell the item.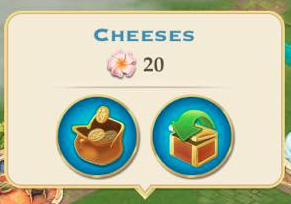 IMPORTANT NOTE: At this time on Mobile only, you can sell any items except Buildings, Castle, Palace and all the items you received from completing the Collections. Web players will soon have this ability.
For Computer Users:
Click on the Tool Icon and then on the Sell icon (arrow above coin). After that, click on the decoration you would like to sell.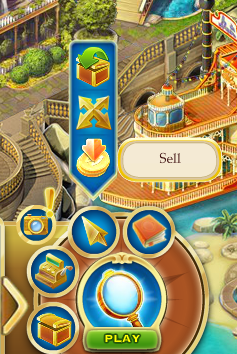 Please note that when you sell items you only get a percentage of the original purchase price of the item back in coins (even if the item was bought with cash). Keep in mind that it's not possible to get the item back after selling it and you will need to buy another one.
Also, the amount of Prestige you received after purchasing the item will be deducted from your balance which might affect your progress through the scenes and chapters. If you sell some item, you might have an insufficient amount of Prestige to reach the next scene.
If you still want to remove an item from your Island, but at the same time, to keep the Prestige that item is giving, you should use the storage. This way you will remove the item from your island, but your Prestige will be not affected.
You will be able to see the amount of Prestige, that will be deducted when selling the item by hovering over it or tapping on it.